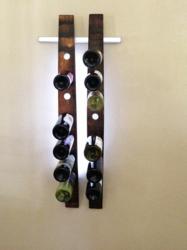 We're pleased to give new life to such an important resource.
Healdsburg, CA (PRWEB) June 27, 2013
Rorabaugh Designs announced today the release and availability of the Lumi Wine Wall to consumers. The innovative wine storage system allows wine collectors to display wine in a unique way utilizing retired French and American oak wine barrels that are upcycled into illuminated works of art.
Until now display options were very limited. Today, the Lumi Wine Wall changes the game with its unique modular design while LED lights illuminate the back of the wall whispering a "sconce" effect.
The process begins with dismantling the wine barrels and sorting them to size. The staves are then cleaned, lightly sanded and finished for a smooth feel but still hold that authentic rustic look and keep the natural wine tint. Because the staves have a compound curve (curved in two directions) angle specific holes are drilled so the neck of the wine bottle rests securely in its place as if suspended in mid-air.
Leveraging a combination of traditional and modern aesthetics with state-of-the art LED technology, the Lumi wine Wall fits into any decor or space. In addition, the wine rack is powered by a choice of either a 12V wall transformer or a hidden battery pack.
Designed to fit into virtually any space, the modularity of the system starts with one stave holding seven wine bottles and 24 Super Bright LEDs and up to six staves holding 42 bottles and 144 Super Bright LEDs. The single wine rack is priced at $89 going up to the six stave wine wall priced at $534. All include an anodized aircraft-grade aluminum hanging bar, LEDs and hardware ready to display on the wall.
Lumi Wine Wall is available direct from Rorabaugh Designs.
About Rorabaugh Designs
Founded in 2010 by Dale Rorabaugh, the inventor of the Lumi Wine Wall. Rorabaugh Designs is focused on offering innovative products that enrich consumer wine experiences with unique wine furniture innovations is headquartered in Sonoma Wine Country.