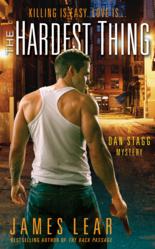 "Dan Stagg, the narrator of James Lear's seventh novel, The Hardest Thing, is a hot-tempered ex-marine with a bad attitude and a limitless libido."

—EDGE
(PRWEB) June 27, 2013
In honor of LGBT Pride, much of the media has focused on featuring positive gay, lesbian, bisexual, and transgender media, especially in light of the recent ruling of DOMA as unconstitutional. As the Publishers Weekly article explains, "the LGBT Pride Month is celebrated each June in remembrance of the 1969 Stonewall riots, and from a vantage point midway through this year's observance it seems especially fitting that some of the season's recent and forthcoming titles uncover and explore the LGBT experience from a historical angle." Publisher's Weekly places James Lear's The Hardest Thing in the context of gay history, saying that it "pays homage to classic pulp fiction as a former U.S. Army major must guard a beautiful young man. When Army vet Dan Stagg falls afoul of DADT he becomes entangled in a web of conspiracy."
In a glowing review, EDGE media calls the same Lear novel "a juicy, fun read, just in time for the summer." It seems that mainstream and LGBT media alike are now more willing to embrace gay literature as a legitimate genre.
On the more sapphic side of LGBT literature, Lambda Literary reviewed Best Lesbian Erotica 2013, edited by Radclyffe. The title also won a Lambda award, and the foundation calls it "a great collection, and shows the strengths of these seventeen authors.
Cleis Press publishes provocative, intelligent books across genres. Whether literary fiction, human rights, mystery, romance, erotica, LGBTQ studies, sex guides, pulp fiction, or memoir, if it's outside the ordinary, it's Cleis Press.