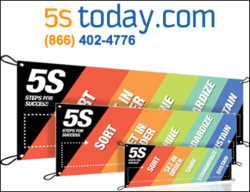 "5S is a powerful set of principles that can dramatically change the way an organization functions. The DVDs we're now offering bring this philosophy to light, making key concepts easier to understand and incorporate," said a representative
(PRWEB) June 28, 2013
5S Today, a leading supplier of Lean tools and materials, recently introduced a new line of educational DVDs to supplement its growing inventory of process improvement products. 5S is a systematic approach to workplace organization and efficiency designed to create a more productive environment; it has gained international popularity over the past few decades based on its unparalleled success. Recognized as an overarching philosophy and culture, 5S has successfully transformed businesses and organizations around the world with a focus on eliminating wasted time and unproductive processes. 5S Today offers a range of tools and resources to support this process including a new selection of relevant DVDs.
A representative from 5S Today commented on the new DVDs. "5S is a powerful set of principles that can dramatically change the way an organization functions. The DVDs we're now offering bring this philosophy to light, making key concepts easier to understand and incorporate."
The name 5S is derived from five Japanese terms designed to contribute to lower costs, improved quality and safety, increased productivity and greater employee satisfaction.
About 5S Today - 5S Today is an established distributor of products focused on Lean principles for process improvement. The company offers a range of materials including visual aids, team exercises and DVDs. 5S Today is committed to providing organizations with the tools they need to improve operations and realize greater efficiencies. 5S Today ships worldwide with a flexible return policy. For more detail please, visit: http://www.5stoday.com/.