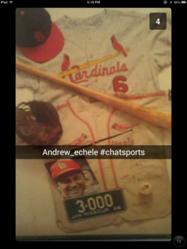 Opening a Snap is an exciting experience and provides a more personal and unique interaction, which Chat Sports hope will create a stronger connection with individuals
San Francisco, CA (PRWEB) June 27, 2013
Chat Sports has become the first sports media company to utilize Snapchat as a way to connect with their users. In mid-June, Chat Sports sent a 'snap' announcing a contest that saw the winner receive two tickets to a local MLB game. The winner of this first contest was University of Missouri student Andrew Echele, who attended the June 23 Rangers vs. Cardinals game at Busch Stadium in St. Louis.
In the weeks leading up to the contest, Chat Sports built up a following on Snapchat by promoting the viral messaging app on their website, Facebook and Twitter accounts. The company tasked users to get 5 of their friends to add 'ChatSports' as a connection on Snapchat, followed by sending a snap with a photo of the friends username and a company created hashtag of "#gimmietickets".
"We decided to use Snapchat for this giveaway for a number of reasons," said Chat Sports Director of Operations Ryan Greenwald. "Snapchat has incredible engagement with high school and college students – a demographic that is ripe for growth with our company. Opening a snap is an exciting experience and provides a more personal and unique interaction, which we hope creates a stronger brand connection with individuals.
"Given the success of our first contest with Snapchat, we plan to continue using the product for ticket giveaways, as well as other exciting sports-related contests. Other social media platforms are tremendously over-saturated and using Snapchat is a great way to connect with early adopters."
Greenwald also stated that the company will continue to give away free tickets to games all summer long via Snapchat. Info on the Snapchat contest for free MLB tickets that Chat Sports is running from June 26th through July 7th can be found at http://www.chatsports.com/snap.
The lucky winner of the nation's first Snapchat contest for sports tickets, Andrew Echele, discussed the unique marketing initiative:
How did you find out about the Chat Sports Snapchat ticket give away?
I was on the Chat Sports website reading up on my Rams and saw the link that said to follow Chat Sports on SnapChat. My friends and I use SnapChat all the time so I was interested to see how Chat Sports would use this app."
How often do you Snapchat? Have you seen of or participated in any other Snapchat promotions?
"My friends and I use SnapChat a lot for random funny things we see or just when we are bored. I have never participated or even seen any other SnapChat promotions besides the Chat Sports ticket giveaway."
What do you think about the Chat Sports site? Do you like that as a company we're using Snapchat?
"I go on Chat Sports on a daily basis to catch up on my sports teams because it is so easy to use and it brings all of the articles for each team to one page. I think Snap Chat is an interesting marketing tool and have not seen it used before but I think it's a great idea."
When did you become a St. Louis Cardinals fan and how passionate of a fan are you?
"I was born and raised in St. Louis so just like everyone else here I was a Cardinals fan from the very beginning. I consider myself an extremely passionate fan and keep up to date on Cardinals news on a daily basis."
How often do you get to attend St. Louis Cardinals games?
"I use company tickets a couple times a year and then get invited by friends to a few as well. I would say last year I made it to 8-9 games including one playoff game. I have only been to 1 this year so far so I am extremely pumped that I won these tickets."
About Chat Sports
In late 2012, Chat Sports exited beta and launch its next generation sports website that delivers sports fans a customized sports page based on their interests. Chat Sports curates up-to-the-minute content from local newspapers, national news sources and thousands of leading sports blogs all onto one website. By quickly delivering the very best and most relevant sports stories from thousands of potential sources, Chat Sports provides a customizable & comprehensive sports page to each user, saving them valuable time while making it simple to share content with friends and fellow fans. Get started at http://www.chatsports.com.
Press Contact:
Ryan Greenwald
ryan(at)chatsports(dot)com
415-545-8671