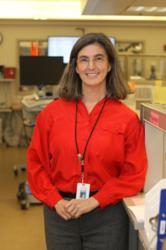 ANCHORAGE, AK (PRWEB) June 27, 2013
The Alaska Native Medical Center (ANMC), an acute and specialty care provider for Alaska Native and American Indian people, announced the appointment of Patti Paris, M.D., FACEP, MBA, as new Service Chief of the ANMC Emergency Department (ED). As a longtime member of the ANMC staff, Dr. Paris brings compassion, expertise and leadership to the care team.
In her new role, Paris will direct the professional, administrative and educational activities of the ED, ANMC's busiest department. She will also provide strategic leadership and direction for all aspects of the department, which saw more than 57,000 patient visits in 2012.
"Working in the emergency room, we see patients from Anchorage and all across Alaska who need outstanding, prompt treatment. It is rewarding to be part of the Alaska Native Tribal Health Consortium, which is able to provide comprehensive care to our peoples, including high level specialty care," said Dr. Paris. "I am proud to lead a team of top-notch physicians, nurses and care staff to provide the highest quality care to patients with serious illness and injury."
Dr. Paris, an American Indian and member of the Penobscot Tribe of Maine, started her work as an emergency physician at ANMC in 1999. She also served as an emergency physician for a year at the Central Maine Medical Center in Lewiston, Maine, and worked for a year as a clinic physician at the McMurdo Base Station in Antarctica. She returned to the ANMC ED in 2005, treating Alaska Native and American Indian people and serving as a member of the Disaster Medical Assistance Team. In addition, Dr. Paris was recognized as an Alaska Native Tribal Health Consortium Employee of the Year in 2008 for her expertise and outstanding patient care.
"As Alaska's only Level II Trauma Center, ANMC serves as the trauma referral center for all Tribal health facilities statewide, meaning people from around the state will benefit from Dr. Paris' leadership," said Dr. Paul Franke, ANMC Chief Medical Officer and interim ANMC Hospital Administrator. "She shares the hospital's vision to provide world-class, culturally sensitive care to our patients."
ANMC's ED is staffed with board certified, specialized emergency physicians and nursing staff who provide comprehensive emergency care across the broad spectrum of illness and injury. The ED also helps guide medical care for Alaska Native people living in rural communities by working closely with village health care providers to treat patients.
About the Alaska Native Medical Center
The Alaska Native Medical Center operates a state-of-the-art 150-bed facility providing comprehensive medical services to Alaska Natives and American Indians. ANMC is jointly managed by the Alaska Native Tribal Health Consortium and Southcentral Foundation and includes the Anchorage Native Primary Care Center.
About the Alaska Native Tribal Health Consortium
ANTHC is a not‐for‐profit tribal health organization managed by Alaska Native tribal governments and their regional health organizations. We provide statewide services in specialty medical care; construction of water, sanitation and health facilities; community health and research; information technology and professional recruiting. For more information, please visit http://www.anthc.org.