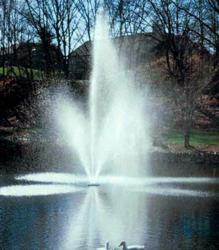 Santa Maria, CA (PRWEB) June 28, 2013
Fountain Mountain, Inc. of Santa Maria, California will be getting in three major container shipments in the month of July.
Shipments will include a restocking of pumps and floating fountain kits and will come in three containers, the biggest one landing in port July 10 and two others following shortly thereafter.
These shipments are unusual because the product boxes have all new artwork and barcodes.
"Last year, we had an unfortunate shortage in the middle of summer," says Michael Guista, president of Fountain Mountain, Inc. "We didn't have enough space for enough floats for our pond fountains."
The warehouse space has been enlarged by fifty percent since last summer, and there should not be product shortages.