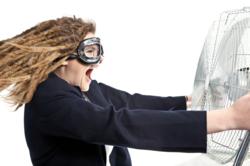 Recent warmer summers are making me consider air conditioning
- Jane, Seattle
Seattle, Washington (PRWEB) June 28, 2013
We love to see the hot weather come to the Northwest and then suddenly when it arrives (on July 5th or thereabouts) we freak out because it's too hot. Seems like Seattleites are only happy at 78 degrees.
Whether you have a central cooling system, a heat pump or air conditioning, or just a single fan, there are plenty of ways to cool off when it gets too hot. You can also be energy efficient doing it without sweating all night.
1.Don't let the heat in to begin with. The hotter the house gets, the harder your cooling equipment has to work. Just like stop-and-go traffic vs a smooth highway drive in the car, the energy use is worse with stop-and-go traffic. Ensure your cooling system is running at maximum efficiency by starting your AC early in the day.
2.Do skip the oven; and choose the BBQ instead. Let the dishes air dry in the dishwasher. This will limit additional heat build up in the house.
3.If you have aluminum windows or single paned windows, consider upgrading to insulated vinyl windows with Low E (energy efficient) glass. This will keep significant heat out of your home.
4.Pull down shades, close blinds especially on the afternoon sun side of the house. Add shades or blinds to French doors or sliding glass doors. Open windows at night to let the house cool down as much as it can overnight.
5.Move air inside your house. Add a low cost ceiling fan and make sure it's installed correctly. Ceiling fans can make you feel 5 degrees cooler by moving the air across your skin. They need to be installed to rotate counter clockwise to give you the downdraft you need. And save electricity, don't leave them on when you are out. They won't cool the house or your pets.
6.Consider a solar powered attic fan. It can draw enough energy from the sun, even in Seattle, to cool down your house. It pulls the hottest air out of the house through the top of the house, drawing cool air (cool air sinks, hot air rises remember) from the lower floors up. This can make a big difference.
7.Service cooling equipment annually. If you have a central heating & cooling system such as a heat pump, ductless heat pump or central air conditioning, you've likely made an energy efficient cooling choice. Maintenance service is important, especially for air conditioning systems that may sit idle for much of the year. You want it to work when it gets hot. Just like maintenance on your car, it will prolong the life of your expensive equipment and ensure you are getting the right "gas mileage", or energy efficiency out of it.
For more information on Air Conditioning, AC service or energy efficient cooling products such as EnergyStar rated heat pumps, and solar attic fans, contact Washington Energy Services at 800 398 – 4663 or visit http://www.washingtonenergy.com. We will get you cooled off fast. Washington Energy Services is a leading provider of energy efficient home improvement products and services in Western Washington since 1957.