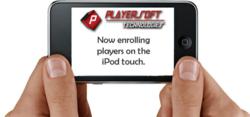 Casino operators in six states and the Bahamas are seeing advantages of Playersoft Mobile Enrollment.
San Diego, CA (PRWEB) June 27, 2013
Morongo Casino Resort and Spa has launched Playersoft's Mobile Enrollment system to increase the convenience and speed of player club enrollment. The system scans driver's licenses allowing casino staff to enroll new guests into the players club anywhere on the casino floor utilizing a specialized iPod Touch.
"Our client base is very discerning," says Kari Smith, Morongo Casino Executive Director of Marketing. "Gaming options are very accessible in the Southern California market and the systems we utilize must provide more tools that can deliver a simple and convenient personal level of service." Mobile Enrollment's open design interface can operate with any casino player tracking system, transforming the sign up process from several minutes at a club booth to just a few seconds anywhere on the casino floor.
"Mobility and access exists for all of us as part of our everyday lives. With Mobile Enrollment, we're able to sign up new guests and create instant rewards anywhere on our property," says Smith. "When our customers walk through the doors, we want them to know they can quickly and comfortably enjoy themselves without standing in lines."
The Playersoft system allows a casino the easiest avenue to enroll new members which equates to greater player retention, more play and profitability for the resort operator. "The advances in mobile technology make mobile sign up possible and affordable. For casino operators like Morongo, this system can have an immediate effect on increasing revenue and reducing expenses," says Tony de Leon, President of Playersoft. "There's growing interest from operators of all sizes as they hear about our recent technology awards for innovation and how our system can be seamlessly incorporated into their casino operations."
Utilization of an Apple iPod Touch makes the entire system small, lightweight and easy to use. "We've been casino operators ourselves," says de Leon. "Through our experience in Las Vegas resorts and Native American gaming operations, we know the importance of making the casino player's visit convenient and hassle free regardless of a property's size. Mobile Enrollment was designed specifically to do that. It streamlines the enrollment process while creating improved data accuracy during the sign up process and profitability in a number of ways."
Mobile Enrollment also features an offline mode allowing staff to reach out to players at offsite events adding even greater reach and furthering the player's experience and creates a positive impression of the level of service the casino is willing to provide. It is part of a suite of products offered by Playersoft which all utilize the iPod Touch technology allowing each platform to interact together and with any current casino system.