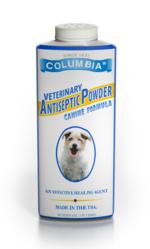 (PRWEB) June 27, 2013
The F.C. Sturtevant Company announces the addition of a new Canine Formula Antiseptic Powder to its line of Columbia Veterinary Antiseptic Powders. This new powder will be available in time for this season's parasite and pest invasion to help protect everyone's favorite pooches while keeping both pets and people free from the harmful chemicals found in many canine pest-killing products. (1)
Columbia Canine Formula Antiseptic Powder is a safe alternative treatment for fleas and ticks to products that contain dangerous chemicals
About this time every year, Americans have to protect their dogs from the threat of fleas and ticks. In doing so, they unknowingly coat their canine in an assortment of toxic chemicals intended to kill pests. These chemicals, such as Imidacloprid in Advantage and Fipronil in Frontline, have been found to be absorbed into a dog's system and are linked to liver problems, thyroid complications and cancer.(2)(3) Some of the chemicals are even harmful to humans. Specifically, young children are in danger due to their undeveloped nervous system and high risk of coming in oral contact with pet's fur.(4) In humans, some of these neurotoxins can cause cancer and attack the brain.(5)
Exposing pets to these harmful chemicals may compromise their liver function and effectiveness of their immune systems. This breakdown in their natural immunity makes them more susceptible to infestations when the flea and tick products wear off. This leads to a negative cycle of infection requiring more chemicals and declining pet health.
Keeping your pets away from harmful chemicals doesn't mean they have to suffer from ticks & fleas, Columbia Canine Formula Antiseptic Powder is an effective solution to protecting pets.
The Columbia Veterinary canine formula contains a unique blend of naturally occurring ingredients which are commonly used in other medicines but not commonly blended together. In fact, the Columbia brand of antiseptic powders has been using variations of this blend of ingredients exclusively in their formulations.
"We have used variations of this formula successfully for over one hundred years," says Company spokesman Steven Rosenfeld. "There is a big difference in effectiveness and safety among over-the-counter topical treatments being used today and our products have stood the test of time. Columbia Veterinary Antiseptic Powders have been used and recommended by veterinarians, breeders, trainers, groomers, riders and pet owners since the 1870's."
Columbia canine formula veterinary powder used regularly will deter external parasites such as ticks, fleas and mosquitos from using your pet as a host. "Fleas are much easier to prevent than to treat," says Mr. Rosenfeld." Daily use of our canine formula powder during tick season will help minimize your pets exposure."
Perhaps most importantly, there is no warning about harmful chemicals on a bottle of Columbia's Canine Antiseptic Powder — It doesn't need one.
1. Veterinary Practice News, March 28, 2013veterinarypracticenews.com/vet-cover-stories/tick-populations-to-explode.aspx
2. Dogs Naturally Magazine dogsnaturallymagazine.com/the-dangers-of-flea-and-tick-products/
3. Natural Resources Defense Council, April 24, 2009 nrdc.org/health/effects/npets.asp
4. Humain Society January 23, 2012 humanesociety.org/animals/resources/tips/flea_tick_OTC_pet_products.html
5. eHow, ehow.com/about_5448397_dangers-frontline.html