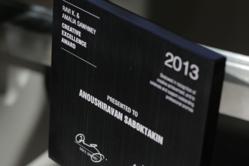 Thousand Oaks (PRWEB) June 27, 2013
Each year, the Ravi K. and Amalia Sawhney Creative Excellence Award rewards a student from Ravi Sawhney's alma mater, CSUN, for demonstrating high professional potential through his or her creative achievements. The 2013 recipient, Anoush Saboktakin, has taught, composed and produced music for nearly 20 years, and can proudly claim contribution to the original music for the short films "No Hay Nada Mas" and "Without a Shadow" in 2012, and the orchestration for the video game "LA Noire" in 2011. He impressed the jury with his impeccable academic credentials, such as his graduation with High Honors from the Applied Music program at Santa Monica College, and with his entrepreneurial vocation. Asked about his projects after receiving the award, Anoush said; "I am planning on looking further for film and TV projects in Iran, my home country, while pursuing projects with upcoming student directors here in the U.S."
Founder and CEO of the innovation consulting firm RKS, Ravi Sawhney himself demonstrated leadership and high creativity early in his career, leading the design for the first touch screen interface at Xerox. He and his wife Amalia, Chief Financial Officer at RKS, created the award to encourage the next generation of students in the creative arts to aim for excellence in their domain. "I believe in encouraging students to strive for success though dedication and pushing themselves to new limits," Amalia says. "It is an experience that once accomplished is to be celebrated and shared with others; it's something that goes to the soul of human experience."
Held by the Mike Curb College of Arts, Media and Communication at the Valley Performing Art Center, the ceremony honored the recipient of the Creative Excellence Award but also the two finalists Joseph Kim and Tara Lucia Prades. Joseph won several awards for his piano performances and remarkably contributed to the soundtrack of several movies and documentaries, while Tara illustrated herself by writing, producing and directing a short movie in Thailand, overseeing and collaborating with more than 120 people including renowned industry professionals.
About RKS
RKS Design, Inc. is an innovation consulting firm delivering human-focused solutions with global impact. Founded in 1980, RKS utilizes design as a strategic tool advancing clients' ability to focus on people's needs and aspirations while creating sustainable business results and benefits to society. Working domestically and globally and having won over 150 major design awards, RKS credits Maslow and Campbell's work as the foundation for its systematic and pragmatic set of frameworks, setting the stage for the creation of experiences that motivate and reward audiences. Read more at http://www.rksdesign.com.
About Cal State Northridge's Mike Curb College of Arts, Media, and Communication
Cal State Northridge's Mike Curb College of Arts, Media, and Communication is inspired by the shared belief that art is communication, that communication is an art and that art and communication are essential pillars for building and maintaining community. Many of its programs, including those in art, music, theater, cinema and television arts and journalism, have an international reputation for graduating skilled professionals who go on and make names for themselves in their respected fields. Read more at http://www.csun.edu/mike-curb-arts-media-communication/.