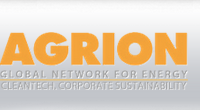 AGRION is capturing a huge and rapidly growing market & we need it to continue to grow as we bolster our infrastructure's armor
New York, NY (PRWEB) June 27, 2013
AGRION, the global network for energy, cleantech, and sustainability, created the Microgrid Taskforce in September 2012 to drive demonstration projects, engaging participants like PG&E, the California Public Utilities Commission, Siemens, DNV Kema, Panasonic, and more. Since launching the initiative, AGRION has hosted roundtable discussions to determine the criteria necessary to finance a small-scale exhibition of a localized, independent power grid.
In just a few months, the microgrid market is showing strong potential. According to Nicholas J. Davis, Managing Director of AGRION Americas, "There are over 405 projects that could be classified as microgrids under development or existing around the world. This accounts for 3.2 GW of capacity with revenue totaling roughly $8.3 billion – that's almost $20 million per project, and this number is artificially deflated given that many projects are early stage. AGRION is capturing a huge and rapidly growing market, and we need it to continue to grow as we bolster our infrastructure's armor to withstand superstorms, mass power outages, and the climate challenges to come."
AGRION will host industry leaders to discuss the developing microgrid market on July 19th in New York City, where the focus will be moving beyond the critical infrastructure fundamentals and towards a standard for microgrid deployment. The roundtable will feature speakers from Petra Solar, General MicroGrids, the Clean Energy Finance & Investment Authority (CEFIA), and more.
President Obama's speech this Tuesday at Georgetown University has further solidified the growing need for individuals and businesses around the world to rethink and restructure their daily energy consumption. The speech, which announced the federal government's plan to combat climate change, will have a significant impact on players in the energy and sustainability industries. Microgrids will play a critical role in strengthening global infrastructure and providing reliable electricity to commercial, industrial, and residential customers in vulnerable areas.
AGRION invites interested professionals to register at http://www.agrion.org to contribute in July.