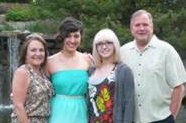 Our amazing exchange student, Claudia from Italy, has so much in common with our daughter Gina... Hosting exchange students has become something not only for our immediate family but our extended family too.
San Francisco, CA (PRWEB) June 27, 2013
Ayusa International, a 30-year-old non-profit organization that promotes global learning and leadership through cultural exchange and leadership programs for high school students, is looking for American families in Oregon interested in hosting a foreign exchange student for the 2013-2014 school year.
Ayusa is specifically looking for Oregon host families in the following communities:

Portland, Hillsboro, Aloha, Beaverton, Tigard, Gaston
Canby, Amity, Aurora, Colton
Bend, Fossil
Eugene, Springfield, Marcola, Albany
Medford, Roseburg, Winchester, Myrtle Point
"Our amazing exchange student, Claudia from Italy, has so much in common with our daughter Gina – including their love for drawing, baking and dogs," said Lynne Degliantoni, who with her husband Larry hosted an Ayusa exchange student in Clackamas, Oregon. "Claudia also made many friends at Clackamas High School and got involved in community service at the Key Club. In addition, she helped around the house, sometimes making dinner when I got home late from work; we always enjoyed her dishes from Italy. Hosting exchange students has become something not only our immediate family enjoyed, but our extended family too... It's going to be hard for all of us to say goodbye to her!"
Ayusa welcomes all interested families who would like to host an international exchange student including families without children, empty nesters, military families, retirees, and single people. Ayusa families come from all over the U.S., including both rural and urban communities. Host families provide three meals a day and a bedroom (either private or shared). Each student is supported by a professionally trained local representative from Ayusa who works with the family, student and local school for the entire program.
How to Host a Foreign Exchange Student
Oregon families interested in hosting an exchange student with Ayusa can follow three simple steps.
Step One: View information online about Ayusa's program and types of students who are interested in living with a host family and spending a year in the United States.
Step Two: Complete the Ayusa online hosting application. Ayusa will provide a list of questions about families and their local high schools, request five references, and ask that families sign a program agreement. An Ayusa representative can help complete the application, answer any questions, and connect potential host families with other host families in a specific community.
Step Three: Once the application is submitted, an Ayusa representative will assist with completion of the additional hosting requirements – a criminal background check and in-home interview with an Ayusa representative. Once a host family is approved, they may login to select a student. Ayusa representatives can also help find a student to match a family's interests and activities.
Ayusa's exchange students are 15-18 years old and come from more than 60 countries around the world, including Brazil, Japan, Germany, Ecuador, France, Peru, Morocco, China, and Spain. All students are fully insured, bring their own spending money, and are proficient in English.
"Oregon families have proven very popular with our foreign exchange students," said Joan Sells-Formoso, Ayusa regional manager for Oregon. "Perhaps it's the unique beauty of the Pacific Northwest that moves them – or the vibrant lifestyle of our region. Whatever the attraction, it's clear that Washington families have been spreading the word about this wonderful, life-changing experience. Join us, and have fun making a difference in the world!"
According to The Council on Standards for International Educational Travel (CSIET), more than 27,000 international high school students between the ages of 15 and 18 years old studied in the U.S. during 2011-2012 as part of U.S. government-sponsored international exchange programs. Ayusa has been a member CSIET for more than 25 years – since its foundation. CSIET evaluates U.S.-based high school exchange programs so that students, families and schools can identify reputable inbound and outbound exchange organizations.
Ayusa is a 501(c)3, and an official U.S. Department of State designated Exchange Visitor Program Sponsor. Families interested in learning more about hosting a foreign exchange student can visit http://www.ayusa.org or call 1-888-552-9872.
About Ayusa
Ayusa International (http://www.ayusa.org) is a non-profit organization founded in 1981 to promote global learning and leadership through cultural exchange and leadership programs for high school students from the U.S. and around the world. In addition, Ayusa administers multiple high profile grant programs funded by the U.S. Department of State and other organizations. Ayusa is a sister company of Intrax, a family of organizations that provide a lifetime of high-quality educational, work and volunteer programs that connect people and cultures. Intrax is headquartered in San Francisco with offices on four continents.