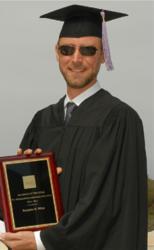 San Diego, Calif. (PRWEB) June 27, 2013
Architect Benjamin W. White was named NewSchool of Architecture and Design(NSAD) 2013 Alumnus of the Year for his sustained contribution to the profession, the quality of his designs and his commitment to the school and community. White, who received the award at the school's commencement June 22, has worked for leading architecture firms, served as an instructor at NSAD and was a founding member and past president of NSAD's Alumni Advisory Board. A 2001 graduate of NSAD's Bachelor of Architecture program, White is currently pursuing a master's degree in environmental science and management at the University of California, Santa Barbara's Bren School of Environmental Science & Management.
While presenting the award, NSAD President Steve Altman commended White for his service as a community leader with a commitment to his alma mater. "Ben never stops thinking about how to create a better world for those around him and beyond. His experience and his education have positioned him to be both an effective and impressive representative of NSAD."
White has worked for leading design architects, including Rob Wellington Quigley, FAIA; Graham Downes Architecture; and Jonathan Segal, FAIA. While at the firms Roesling Nakamura Terada Architects and Delawie Wilkes, White focused on the design and construction of large-scale, complex buildings that represent a total of over one million square feet of built space in San Diego. His projects included the expanded campus of San Diego City College as well as the corporate headquarters for Qualcomm and the La Jolla Institute for Allergy & Immunology.
White is credentialed by the U.S. Green Building Council as a LEED Accredited Professional and has worked on several LEED-certified projects, achieving high levels of environmental performance. White also has served the community by working with San Diego high school students through the ACE Mentor Program, which inspires students to pursue careers in design and construction.
As a founding member and the past president of NSAD's Alumni Advisory Board, he has worked diligently to raise the profile of the school, both locally and nationwide. In 2012, White was named Young Architect of the Year by the AIA San Diego, and more recently he led a team that won the Most Innovative Award for a proposed energy efficiency implementation plan in a competition sponsored by the U.S. Department of Energy. His team presented their project at the White House earlier this year.
About NewSchool of Architecture and Design
NewSchool of Architecture and Design (NSAD), founded in 1980, is located in San Diego, California. For the past two years, DesignIntelligence has ranked NSAD among the top 10 undergraduate architecture schools in the western United States in its publication "America's Best Architecture & Design Schools." NSAD is accredited by the Accrediting Council for Independent Colleges and Schools (ACICS), a national accrediting agency recognized by the U.S. Department of Education and the Council for Higher Education Accreditation. NSAD's Bachelor of Architecture, Master of Architecture and Executive Master of Architecture programs are accredited by the National Architectural Accrediting Board (NAAB). NSAD also offers a pre-professional Bachelor of Arts in Architecture, along with a Bachelor of Science in Digital Media Arts, a Bachelor of Science in Construction Management, a Master of Construction Management and a Master of Science in Architecture. The school's expanding global design education offerings include a new Bachelor of Interior Design program available in 2013–2014. For more information, visit http://www.NewSchoolArch.edu.