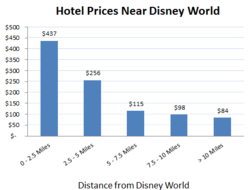 Vacationers looking to save a few bucks could choose to stay 5 miles from the park, and save over $300 per night.
Jericho, New York (PRWEB) June 27, 2013
Vacationers traveling to Walt Disney World this 4th of July have many hotel options to choose from. Depending how far, or how close to the park one wants to stay can have a big impact on a traveler's wallet. A recent study conducted by HotelsCheap.org shows that travelers willing to stay just a few miles further away from Walt Disney World can save over 300% on their hotel cost.
HotelsCheap's survey analyzed hotel prices based on how far they are located from the Disney wonder land. Not surprisingly hotels that are close to Disney World are the most expensive, but what is surprising is how much more expensive they are. As the bird flies, hotels that are within zero to 2.5 miles of Walt Disney World averaged $437 per room night. Hotels that are within 2.5 - 5.0 miles from the park averaged $256 per night. Hotels that are within 5.1 - 7.5 miles away have an average price of $115, over 300% savings from hotels that are just a few miles closer. HotelsCheap company Vice President, Rob Bruce says, "Vacationers looking to save a few bucks could choose to stay 5 miles from the park, and save over $300 per night. The Embassy Suites Lake Buena Vista Resort, costs $119 / night, which includes a room with a suite, and a full breakfast for the family. The hotel is a little further away from the park, but a 10 minute shuttle ride could save you over $300 / night, and save money for families on a budget."
The cheapest hotel located within 2 miles of Disney World is the Disney Wilderness Lodge, with a room price of $354. A 4 star hotel, with a guest rating of 4.5 this hotel is sure to please. Located just one mile from Walt Disney World, families are sure to experience all Disney has to offer.
Located 5.0 miles from Disney World, Arnold Palmer's Bay Hill Club and Lodge has an room price of $119 per night. This hotel has a 4 star rating, and boasts a 4.5 guest rating. For $119 per night, vacationers could save over 50% and still be within 5 miles of the park.
At 6.1 miles away from Disney World, the Ramada Gateway Kissimmee has a room price of $59 per night. A 3 star hotel, with an average guest rating of 3.5, travelers can save even more with a lower priced hotel.
HotelsCheap.org is a leading discount travel website specializing in hotels. Recognized as an industry leader for their analysis and research, HotelsCheap regularly conducts surveys and research studies to help tourists and business travelers alike uncover the best hotel deals for their destination. If you have any questions about the methodology for this survey, please contact HotelsCheap at customerservice@hotelscheap.org.