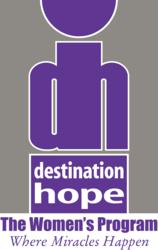 Women are more than twice as likely to develop PTSD than men.
Fort Lauderdale, Florida (PRWEB) June 28, 2013
Destination Hope: The Women's Program, a nationally recognized gender specific substance abuse treatment, alcohol and drug rehab for women facility in Fort Lauderdale, Florida, has specialized programs for women with post-traumatic stress disorder, or PTSD. June is PTSD Awareness Month and the theme for 2013 is "Take the Step: Raise PTSD Awareness."
PTSD can affect anyone at anytime, but research shows that women are more than twice as likely to develop PTSD than men. This statistic is especially telling, because men are slightly more likely to experience trauma than women. The United States Department of Veterans Affairs gives some reasons why women may be at a higher risk for developing PTSD: women are more likely to experience sexual assault, and sexual assault is more likely to cause PTSD than many other events. Additionally, women may be more likely to blame themselves after a traumatic experience.
Destination Hope: The Women's Program often provides drug rehab for women who are suffering from PTSD. Although PTSD is considered a mental health disorder, it can also lead to substance abuse disorders. Statistics show that nearly 28 percent of women with PTSD end up using drugs and alcohol as a form of self-medication.
"Women are highly susceptible to developing PTSD, particularly if they have experienced sexual abuse during childhood," said behavioral health expert Ben Brafman. "There is no one cure-all for treating PTSD, especially when it is accompanied by a substance abuse disorder. The best way to fight this disorder is through trauma rehab, which can come in many different forms."
Trauma and drug rehab for women at Destination Hope: The Women's Program is highly specialized on a case-by-case basis. It may include psychotherapy, medication, support groups, peer mentors, or a combination of factors.
"No two courses of treatment will be the same," said Brafman. "Everyone reacts differently to traumatic events. If someone is suffering from PTSD and substance abuse, they need to enter a treatment facility as soon as possible."
With treatment, women can see an improvement in their PTSD symptoms. In fact, some studies find that women respond to treatment better than men do. This could be because women are more likely to seek help, or because women tend to be more comfortable sharing their personal experiences. Whatever the reason for this successful recovery, drug rehab for women could be a lifeline for any women struggling with PTSD.
Destination Hope: The Women's Program is a full service addiction, drug, alcohol and dual diagnosis treatment facility in Florida for women suffering from substance abuse and mental health issues. Treatment programs include: drug rehab, alcohol rehab, outpatient rehab, dual diagnosis therapy, family therapy programs, prescription drug rehab aftercare and women's health programs to treat depression, anxiety and eating disorders. Destination Hope: The Women's Program and its partner program, Destination Hope, provide gender specific therapy in an intimate treatment environment. For more information on the center or substance abuse and addiction treatment, please go to http://www.womensdrugrehab.com.