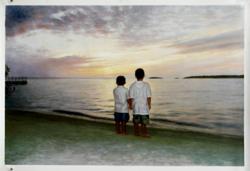 McKinney, TX (PRWEB) June 27, 2013
It is summertime again! The kids are out of school, families are headed on vacations to some of the nation's top destinations, and people everywhere are relaxing in the summer sun. PaintYourLife.com is excited to announce its plans to join in the summer fun, and to help boost summer savings with a terrific 20% off deal.
Everyone has their own favorite summertime memories, and what better way to celebrate than with a painting from a photo that captures those memories, especially when the savings are this good? A favorite photo can quickly become a favorite family heirloom when it is produced by one of PaintYourLife.com's talented artists.
No one ever said that photo to canvas reproductions had to be formal portraits. There is no reason to bury favorite pictures in scrapbooks or worse, to keep them on a camera memory card where they will never be seen.
A photo print on canvas will allow an individual to proudly display their summer memories year-round. In fact, a candid photo from a family vacation could be the ideal wall art for one's office, living room, or bedroom.
There is even something for those that do not want a traditional photorealistic portrait. Canvas pop art can be made from a photo in fun, summertime colors for a decorative piece that will really capture the essence of the season and remind people of hot beaches and baseball games even in the cold winter months.
And of course, don't forget about Christmas in July. Why not start shopping for the holidays now? Having custom art pieces made months in advance with PaintYourLife.com's 20% off offer guarantees a less stressful holiday season. Whether custom art pieces are pictures of the kids or pet portraits for those that love their four-legged friends, they are sure to be a hit.
Visit the PaintYourLife.com website for a quick look at the many art options that are available. The 20% off sale is available with coupon code New20, so there is no reason to delay. Art enthusiasts can have one of the professional artists on the Paint Your Life team create a beautiful and quality item. And of course, users will always receive exclusive discounts and deals just for liking the PaintYourLife.com fan page on Facebook.
About Paint Your Life
Paint Your Life was founded in 2006, and features one of the world's largest selections of canvas and art products. All products are designed by a team of professional graphic designers, and each product is created with the utmost quality and attention to detail. The site, which is a leader in the online art industry, has seen tremendous success because of customer and word-of-mouth referrals, and continuously works to develop innovative new ways to cater to an extensive range of needs.