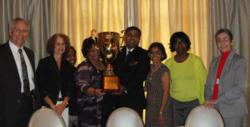 "It's need of the hour that public institutions adopt modern technology for patients wellness and recovery" Deelip Mhaske
Morris Plains, NJ (PRWEB) June 28, 2013
Deelip Mhaske "One Stop Access" creator of Greystone Park Psychiatric Hospital accepted top honors in the fourth statewide competition for improving mental health services sponsored by the University Behavioral Health Care (UBHC) division of the University of Medicine and Dentistry of New Jersey (UMDNJ). The competition — the first of its kind in the country — culminated Thursday, June 20, with an awards ceremony at the Behavioral Health Care Quality Improvement Fair, hosted by UBHC, at The Imperia.
As the winner, selected from among 31 improvement projects submitted by mental health organizations throughout New Jersey, Greystone Park Psychiatric Hospital was given the Trophy. The competition was started 11 years ago (2002) as an initiative within UMDNJ-University Behavioral Health Care (UBHC) to encourage innovation and improvement in mental healthcare. In 2010, it expanded to a statewide competition.
"I am grateful to the many healthcare professionals who are so committed to enhancing the lives of the individuals we serve on a daily basis," says Christopher Kosseff, President and Chief Executive Officer of UMDNJ–University Behavioral Health Care. "The caliber of the performance improvement projects remains high again this year." He extended his appreciation to the judges, who tackled the daunting task of selecting the winners.
Greystone Park Psychiatric Hospital's winning project, "One Stop Access," was developed to increase Greystone staff's ability to provide efficient, coordinated, safe and high-quality care by providing immediate access to integrated and comprehensive patient information with the goal of increasing the hospital discharge rate. "Having information only in patients' charts creates information-sharing barriers—the charts are bulky, filing and refilling of paper records is labor-intensive, and if a record is checked out by one department, another department wouldn't have access," says Deelip Mhaske, a Harvard Business School MHCD alumni, project leader. "The impact of not having immediate access to health information delays the discharge process." The project's result: Compared to 2009–10, Greystone saw a 42.2% increase in its discharge rate.
This project was based on the lean six sigma principles and its on way to get implemented in all other New Jersey Psychiatric Hospitals.