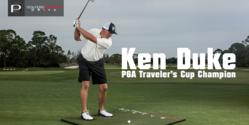 Ken, I want you to get back to the Masters. I think you are going to win a tournament this year. Bob
Boston, MA (PRWEB) June 27, 2013
KEN DUKE WINS TRAVELERS CHAMPIONSHIP on 2nd hole of playoff. With six top ten finishes on the 2012 PGA Tour, many thought this would be Ken's year to win, said Golfers Power Drive president, John Miller. Being with Ken at the Floridian County Club this past October, and a 2nd time in January with his golf instructor, Bob Toski, you could sense the confidence from both Ken and Bob, Miller added. In a totally unscripted training shoot, Bob ended the final segment, by saying directly to Ken, "I want you to get back to the Masters this year, I think you are going to win a tournament this year". Ken looked into Bob's eyes with confidence and said "thank you".
The Golfers Power Drive training aid site is lead by PGA Tour golfer Ken Duke and Bob Toski, his personal trainer, PGA Hall of Fame and World Golf Teachers Hall of Fame. Power Drive Performance Inc. maintains web based training sites for all Power Drive owners which include the US Patent Pitchers Power Drive, US Patent Softball Power Drive and Hitters Power Drive. The Golfers Power Drive training site is made available to enhance all golfer's development.
Having two great PGA Tour experienced golfers and Bob's renewed fame as a leading golf coach will help many professional, amateur and pleasure golfers improve their game, said Miller. Bob has worked with Ken since 2006. Ken Duke said "It's been great working with Bob, "I've changed my golf swing to try to be more consistent. It's making me believe that I can swing it the way that he's teaching me to do it, and having fun doing it". Bob Toski has instructed other pros such as Tom Kite, Bruce Crampton and Judy Rankin. He also has written several books and produced golf instruction videos. This year Bob Toski was inducted into the PGA Hall of Fame.
The training video shoots were produced at the Butch Harmon Learning Center, located on the premises of the Floridian Country Club in Palm City Florida. "Butch Harmon's facility which features the Titleist Performance Institute and 12-acre outdoor practice area allowed the perfect environment to capture the essence of a professional golf swing for training purposes. JJ Miller Photography filmed the training with a 700 frames per second camera to capture the training in slow motion. This slow motion demonstrates how the Golfers Power Drive help's golfers control their lower body movement to ensure a mechanically correct and powerful golf swing.
The GOLFER'S POWER DRIVE TRAINING AID teaches golfers to get their lower body initiated into the golf swing with a stabilized back leg and foot. Once you have learned to stabilize the lower body on the backswing, the power drive can then be used to work on the downswing. When done properly, the GOLFER'S POWER DRIVE standing plate produces an audible "CLICK" on the lower front side plate. This auditory sound and kinetic feel provides a multisensory teaching aid that trains the golfer's muscle memory and increases their skills.
US Patent, Power Drive Performance multisensory training aids, are already used by 21 Major League Baseball teams and over 600 collegiate sport teams. Learning created by the auditory click and kinetic feel has provided great success with the highest level athletes. For more information about Golfers Power Drive visit http://www.golferspowerdrive.com Power Drive Performance is based in Holliston, Massachusetts. To learn more about Power Drive Performance go to http://www.powerdriveperfromance.com