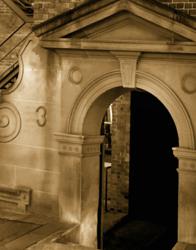 Architecture, like all the arts, is an expression of human creativity.
New York, NY (PRWEB) June 28, 2013
Photographer Ellen Fisch recently finalized plans for a trip to Germany to photograph the magnificent architecture and to further her own photography through the study of German photographers, architects and artists. "The Bauhaus School of Architecture appeals to me tremendously," says Fisch. "I am also attracted to the older Germanic buildings and Germany's marvelous tradition of art and design." Fisch believes that studying the great drawings and prints of Durer, Holbein and up to and beyond artists such as George Grosz gives her a better understanding of tone, line and composition. The architecture from Gothic masters to such modernists as Mies van der Rohe, is diverse and majestic and will afford Fisch chances to capture both traditional and modern examples of exquisite buildings, architectural details and interiors.
In the last decade NYC architectural art Photographer Ellen Fisch has taken several trips abroad to increase her aesthetic and to improve her photography taking skills. "I am constantly learning and growing as a photographer/artist," notes Fisch. Travels to Sweden, Holland, Belgium, Austria, Australia and New Zealand have provided Ellen Fisch with a broadened perspective of architecture, interior design and the fine arts. "Each country offers spectacular examples of talent in the visual arts. However, I also feel that walking in my own neighborhood can be fascinating and instructive." Fisch strongly believes that any environment can offer many opportunities for inspiration.
"The key ingredient to finding positive and artistic influence on one's art is awareness and a willingness to pay close attention to one's own surroundings," says Fisch. When traveling or at home, Fisch turns her lens onto new and familiar architecture to capture unique aspects of a community. She then culls through her shots to transform the finest photographs into stunning black and white and sepia images. "The locations definitely impact my work as a professional photographer, but often the hardest shots to take are the ones of structures that I am familiar with. It is altogether challenging and exciting to photograph familiar surroundings and/or landmarks because I look for a new twist in these images – a new perspective." Fisch notes that she recently saw a reflection of the Empire State building that gave the icon an original look. "Seeing something new in routine sights is truly wonderful! I aim for that uniqueness for my clients and myself, all the time."
Ellen Fisch lives in a suburb of NYC and commutes to the City frequently. Furthermore, she revisits her childhood home of Brooklyn periodically. "Every location has unique architecture because architecture, like all the arts, is an expression of human creativity. People use their spaces to provide the canvas on which architecture is constructed," says Fisch. As an architectural art photographer, Fisch is instinctually tuned into her environs.
"I am looking forward to traveling to Germany," notes Fisch, "because I will see much of the superb architecture and art I have seen only in books." The trip will be for two weeks and Fisch plans to pack her cameras, lenses, camera cards, image storage unit and "a few tee shirts." Photography travel is an art to Fisch. "By packing light I can concentrate on my photography and enjoy walking around the cities of Germany."
About: Ellen Fisch is a New York based architectural commercial and fine art photographer specializing in black and white and sepia photography that is artistically expressive, historically relevant and timeless. Fisch has recently developed a new photography art form using traditional fine art media to enhance her photography.
To view Ellen Fisch's photography visit: http://www.ellenfisch.com
To learn more about Ellen Fisch and her continuing exploration of photography and art visit: http://www.ellenfisch.blogspot.com
###