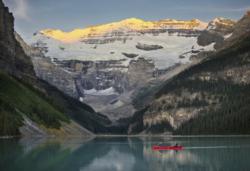 In the face of recent events, it seems only fitting that we welcome Albertans to join us on Canada Day in the original place our nation set aside to both celebrate and protect nature
Banff National Park, Alberta (PRWEB) June 27, 2013
There will be a full slate of festivities in the town of Banff and hamlet of Lake Louise to celebrate the Canada Day long weekend, providing a much needed respite from the recent flooding throughout southern Alberta.
Entry to the national park on Canada Day is free to all visitors. The forecast for the weekend is looking as spectacular as the Rockies with calls for plenty of sunshine and temperatures peaking in the high 20s.
A timely re-opening yesterday afternoon of the Trans-Canada Highway has paved the way for unrestricted access from Calgary all the way through Banff National Park. The highway experienced severe damage at multiple points and only through the tremendous collaborative effort of the Government of Canada, the Province of Alberta, Parks Canada, the Towns of Banff and Canmore, Canadian-Pacific, and countless unsung heroes and volunteers could a re-opening have been made possible one week after the unprecedented flooding.
"Our hearts remain heavy for those who suffered during this very challenging time," said Julie Canning, President & CEO of Banff Lake Louise Tourism. "The communities of Banff and Lake Louise extend their gratitude for the unshakeable resilience of our fellow Albertans. We want everyone to know that summer is a go here in the park, and Mother Nature is ready to give a gentle hug back."
"In the face of recent events, it seems only fitting that we welcome Albertans to join us on Canada Day in the original place our nation set aside to both celebrate and protect nature," said Karen Sorensen, mayor of the Town of Banff. "We look forward to welcoming our neighbours as well as visitors from around the world."
There is a full array of family-friendly events scheduled to take place in both Banff and Lake Louise over the long weekend, including Sunday's fundraising concert featuring 2013 Juno Award winner 'Classified' at The Banff Centre's outdoor Shaw Amphitheatre and Brewster Travel Canada's Benefit for the Bow Valley at the Banff Gondola.
Lake Louise events will feature a wide variety of activities for all ages including canoe races, a polar bear dip and community barbecue to name just a few. The ever-popular Canada Day parade will take place on Banff Avenue at 5 p.m., featuring a special Calgary Stampede stage, with fireworks scheduled to follow in Central Park later in the evening.
For a full schedule of events in Banff National Park this long weekend, please visit http://www.banfflakelouise.com/canadaday.
About Banff Lake Louise Tourism
Banff Lake Louise is a destination marketing organization for the Town of Banff, Community of Lake Louise and Banff National Park. Supporting over 800 businesses, our mission is to engage visitors in unrivalled, remarkable experiences with our membership.
For media inquiries, please contact Mary Morrison, Manager, Travel Media Relations at 403.762.0290 or mary(at)banfflakelouise(dot)com.