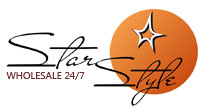 Our aim is to provide each and every one of our customers with a superior shopping experience, with high quality apparel, low prices, and fast, efficient delivery
Riga, Latvia (PRWEB) June 27, 2013
A Latvian fashion retailer, StarStyle, has recently launched a new wholesale website, which deals with the sale of lingerie and apparel, which can be purchased wholesale direct from the distributors. The site deals with the sale of high quality lingerie and apparel, which includes lingerie, casual wear, swimwear, body stockings, corsets, menswear, and more.
The new wholesaler site provides updated styles and lines on a weekly basis, enabling customers to enjoy access to a fresh variety of apparel and lingerie on a regular basis. There are popular brands available, all of which are offered at low wholesale prices. The company is also offering speedy shipping for customers, enabling buyers to quickly and conveniently have their purchases delivered to the door.
The diverse variety of clothing and lingerie that has been made available through the newly launched site aims to cater for a wide range of tastes, preferences, ages and budgets. While the website has been launched recently, the company has been in business for over five years and uses its experience within the fashion industry to provide customers with high quality and a high level of service.
A representative from StarStyle stated: "Our aim is to provide each and every one of our customers with a superior shopping experience, with high quality apparel, low prices, and fast, efficient delivery. We hold most items in stock, so we can ship within 24 hours both within Latvia and around the world. With our updated clothing lines, customers will find new and exciting ranges on the site every week, which means that they can keep their wardrobes up to date on a continual basis. Our website has been designed for ease of use and practicality, so website visitors will be able to browse and shop with ease and convenience."
To check out the range of Star Style, please visit http://wholesale.starstyle.lv/en.
About Star Style
StarStyle is a fashion retailer in Latvia and now offers access to high quality wholesale clothing through its wholesale retail website online.
Contact information
Star Style
Dzelzavas street 74 203kab.
Riga LV-1082
Latvia
Phone Number: 0037128321994