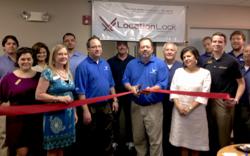 "We provide GPS tracking for fleet businesses, to help them lower their vehicle operating costs and optimize their fleet utilization." -- Stephen Conroy, CEO
San Antonio, Texas (PRWEB) June 27, 2013
Authorized Trimble and MobileLock dealer Location Lock, LLC was honored with a ribbon cutting ceremony by the Greater Boerne Chamber of Commerce on Tuesday. Stephen Conroy, founding partner and CEO, welcomed Chamber members, guests, and friends, explaining, "Our company is called Location Lock because we lock on to your location. We provide GPS (Global Positioning Systems) tracking for fleet businesses, to help them lower their vehicle operating costs and optimize their fleet utilization." Although the ribbon cutting occurred on the one year anniversary of Location Lock's membership with the Chamber, Mary Jo Floyd, a Chamber Ambassador, recognized the event as also celebrating Location Lock's three years in business. "We're a small company, but we do big things because we are backed by big partners," Conroy added.
As the ceremony progressed, Conroy detailed some of the services Location Lock provides with the help of key relationships. One relationship, MobileLock, allows Location Lock to offer customers solutions for their construction equipment such as bobcats and front-end loaders, and trailers. Providing fleet customers with solutions such as GPS tracking, driver safety, vehicle diagnostics, and work order management, Location Lock relies on another relationship, Trimble Field Service Management (FSM). Location Lock customers are experiencing exceptional cost savings in fuel expense, reduction in employee overtime, and effectively accomplishing more work through work order optimization. While Location Lock offers its own micro trackers for the private investigation community, the company is set to announce an important relationship with another market leader in the GPS tracker world. "An official announcement will be made in the next few days," hinted Rick Myers, Vice President and COO. As the event came to an end, Floyd remarked, "Sounds like your business is something a lot of people could benefit from and we're glad you're a member of the Chamber."
About LocationLock, LLC
LocationLock is headquartered in Boerne, Texas, just a few miles northwest of San Antonio. The company is a specialized group of individuals called to make an impact in the business and technology sector. LocationLock's mission is to bring their customers peace of mind by securing their assets through the company's GPS tracking technology. LocationLock has some of the most robust and proven hardware/software in the GPS industry. The company's ability to deliver on these promises has enabled their customers to enjoy more peace of mind and maintain more productive operations.