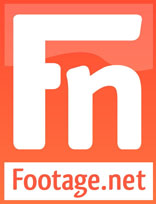 Producers Library is one of the most respected footage houses in the business, and one of Footage.net's oldest partners
New York, NY (PRWEB) June 27, 2013
Producers Library, a longstanding global supplier of archival and contemporary stock footage, has added a cache of new clips to Footage.net's stock footage search and screening platform. This newly added content joins a rapidly growing selection of world-class clips on the Footage.net site, now one of the world's largest and most diversified stock footage resources.
Founded in 1957, LA-based Producers Library is a highly regarded and source for coverage of Hollywood and the entertainment industry, as well as newsreel clips, feature film outtakes and trailers, still photos and professionally shot contemporary stock footage and location shots.
"Producers Library is one of the most respected footage houses in the business, and one of Footage.net's oldest partners," said David Seevers, Footage.net Chief Marketing Officer. "So we're always excited to help them make their ever-growing collection of archival and contemporary stock footage available to the global production community."
The Producers Library collection is "highly eclectic," according to Jeff Goodman, Producers Library President, "and this is what sets us apart."
Avid film historians, the Producers Library team has a passion for uncovering rare historical gems and presenting these discoveries to the creative community in inspiring and delightful formats. For example, they're currently busy mining new material from the Bill Banks collection, an especially rich vein of images from Hollywood's Golden Age. One intriguing nugget shows Kim Novak sitting next to Vampira, one of the progenitors of the femme fatale vampire trend.
An eclectic, evolving collection tends to draw an eclectic client base. Producers Library works extensively with documentary filmmakers, as well as primetime television, feature films and major ad agencies. Case in point: some recently added color footage of the construction of the 1964 World's Fair caught the eye of director Tim Burton, as his team searched for footage to use in the production of his new period film, Big Eyes.
"We've definitely seen a resurgence in the use of vintage footage in national ad campaigns," added Goodman. "Our shots appear in new ads for both Mazda and Jaguar. The Mazda spot features a 'bathing beauty' from 1921, produced by the illustrious Max Sennett studios. The Jaguar ad uses several of our retro crowd shots. Both campaigns are really compelling."
Producers Library provided footage of Manhattan street scenes from the 1940s for the HBO film "Hemingway and Gelhorn." In one scene, Nicole Kidman's character, Martha Gelhorn, is seen through a window from within a store. In another, both Kidman and Clive Owen, who plays Ernest Hemingway, walk down a crowded city street. The filmmakers were able to blend the archival footage seamlessly with live-action green screen shots of the actors, resulting in a greatly enhanced sense of historical realism.
Having the original film element on hand has helped Producers Library meet the need for up-conversions to HD formats. "This works much better than trying to upconvert from video when you want to integrate vintage footage into an HD production," said Goodman.
Always on the lookout for new ways to showcase their content, the creative team at Producers Library has recently begun developing a series of whimsical montages. Examples include a four-minute assemblage of screen-worthy kisses; paparazzi and flashing cameras; audiences; and a great sequence of newspapers rolling on the presses (think Citizen Kane!). The montages are all available for viewing on Footage.net.
In addition to all this invaluable historical footage, Producers is also beefing up its collection of contemporary clips, with a big new influx of HD travel shots including some very detailed coverage of India.
Footage.net has grown steadily over the last several years to become one of the world's largest and most comprehensive online stock footage databases. New clips from Producers Library are now available for screening through Footage.net alongside motion content from some of the world's most prestigious footage companies.
About Footage.net
Footage.net is the world's premier online resource for stock footage research. Since 1994, Footage.net has focused on meeting the needs of both footage users and footage providers. Today, Footage.net remains committed to helping users find the best footage as quickly and easily as possible; generating new leads and licensing opportunities for our member archives; and strengthening the footage licensing industry as a whole. Our dedicated search engine makes it easy for creative professionals to search 40 world-class footage collections simultaneously and view over two and half million clips, many of which are available for download. Our Global Search partners include some of the best-known companies in the stock footage industry, including Getty Images, Producers Library, Framepool, Historic Films and NBC News Archives, as well as some exciting new specialist collections, such as Skyworks, CriticalPast and OceanFootage. Footage.net is also home to the Zap Email, used every day by creative professionals to send footage requests instantly to over 50 top footage providers. Whether they're up against a deadline or searching for an obscure clip, creative professionals rely on Zap Emails every day to initiate their footage research projects, providing Zap subscribers with a steady stream of new leads.
About Producers Library
Founded in 1957, Producers Library is the country's oldest and largest continuously operating independent stock footage house. The Producers Library collection encompasses the highest-quality 16mm, 35mm, high-definition, and video stock footage and photographs for professional filmmakers. The very best of this footage and high-quality celebrity photos are now available on their website.
The history of Producers Library reaches back more than 50 years. In the 1950s, major studios shut independent producers out of their stock footage libraries. For the Indies, there was no place to deposit footage for licensing or to access the work of other independents. The former head librarians of MGM and RKO joined together to provide these services to independent producers by creating Producers Library. Existing management took over in 1986 and rapidly expanded its holdings. Producers Library is now proud to celebrate its 50+ years of service by presenting its best footage online.