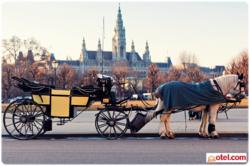 (PRWEB) June 27, 2013
Being one of the most visited European capitals, Vienna is also the capital of music for many people. People are visiting the city for its unique history of music and still-performing famous musicians. The weather is also convenient during spring, summer and autumn for exploring the city.
CEO of Otel.com, Metin Altun, explains why people should book Vienna hotels in advance: "There are some cities in the world which attracts thousands of tourists. One should know that he or she is just one of those thousands. Is it possible to find a well-located hotel just the day before the vacation? It is almost impossible for those cities. Vienna is one of these cities and hotels in Vienna are fully booked even at the end of the winter. We decided to offer the very few vacant rooms of several cheap Vienna hotels. We are making special discounts on those and our visitors will get the 5% of their purchase back after booking. I, personally think that this is a unique opportunity for Vienna lovers."
As Metin Altun says, Vienna would be a crowded city during summer. There are musical events and the city is full of various art. People may visit some its theaters and operas including the Burgtheater, Volkstheater, House of Music and Theatre on the Wien River. Also the Hofburg Imperial Palace which is the home of the President and Schonbrunn Palace which houses the Vienna Zoo known to be the oldest in the world is in this city. People prefer to book their hotels in the inner ring of the city.
Metin Altun mentions the two special summer hotels in Vienna. "Austria Trend Eventhotel Pyramide is a massive hotel with a 5,000 m² spa and recreation area and a 42-meter pyramid, an event center for up to 4,000 people. The other hotel we offer is Das Triest Hotel. Being in the trendy quarter of Freihaus; the hotel features a classic design with the original stables dating back 300 years. We announced our special rates for these two hotels. People who want to explore the city and take advantage of staying in a popular hotel with good prices should visit our website to catch these deals."
About Otel.com
Otel.com is a web-based travel booking company. It provides over twenty languages and currencies within its system. The monthly offers and Vienna city hotels can be followed on the website of the company, http://www.otel.com/