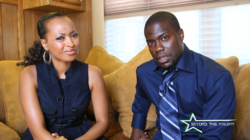 "I did not expect Kevin Hart to say the things he said." - Jennia Fredrique
Hollywood, CA (PRWEB) June 27, 2013
In a tell all interview on Beyond the Talent, Kevin Hart speaks openly with host Jennia Fredrique about his sex life, drug use and his new entourage.
"I was completely thrown off as I thought the interview would be more serious in nature," says host Fredrique. "Kevin remained completely in character the entire interview."
The "Let Me Explain" comedian's concert film debuts July 3 and is already receiving rave reviews and record breaking anticipation. Hart's international "Let Me Explain" tour traveled to 10 countries and 80 cities earning over $32M in ticket sales. In 2011 Hart broke Eddie Murphy's long standing box office record on his "Laugh At My Pain" comedy tour.
Beyond the Talent leaked a short clip of its interview with Kevin Hart that quickly went viral becoming Hart's most watched online interview. The company recently released other parts of their exclusive interview with the comedian that have many hailing Hart as the next King of Comedy.
To view the complete six part interview series, visit http://www.youtube.com/beyondthetalent.