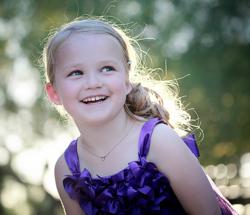 "Zoephia's dreamt of being a performer for as long as I remember," says Decker-Knealing's mother, Shannon.
Scottsdale, Arizona (PRWEB) June 27, 2013
They've been projecting temperatures to be record worthy this weekend with triple digits as high as 118 degrees F; however, that won't squelch Scottsdale 5 year old Zoephia Decker-Knealing's bid to be Arizona's next National American Miss Princess this weekend at the Doubletree Resort in Scottsdale June 28th-29th where she'll compete for the state title and a chance to compete at nationals in Anaheim later this year. Zoephia, as well as girls from all over the state, will don formal wear, interview suits and the like despite the heat to prove to judges they have what it takes to represent the great state of Arizona. Decker-Knealing is an exceptional 5 year old and even the most accomplished will be hard pressed to compete. The first grader—yes she's a year ahead in school—is at the top of her class all while keeping an active extracurricular schedule with ice skating, dance and gymnastics. She's also played piano, golf, soccer, and been involved in theater since she was 3. She dreams of being on stage; so much so, a "stage" was on her Christmas list for Santa last year. Decker-Knealing has been dancing since 2 and has had solos in her dance company's semiannual recitals the past 3 years. This fall will be the launch of her new clothing line. A pretty impressive resume for almost anyone; exceptional for someone who's five. This year she'll be singing and dancing in the optional talent portion of the competition. "Zoephia's dreamt of being a performer for as long as I remember," says Decker-Knealing's mother, Shannon.
Her clothing line due out this fall includes casual as well as active wear for girls. Zoephia's idea came to her after first pitching a doll clothing business to her parents. To ensure the line stays young, fun and hip, Zoephia oversees and approves each design. "I think kids know what kids like" says Zoephia. And for those requiring that extra special zing, Decker-Knealing's line won't disappoint. The young designer is gratuitous with her line's bling, guaranteed to satisfy even the most discriminate princess.
The National American Miss Pageants are dedicated to celebrating America's future leaders and equipping them with life-long skills. The program is based on inner-beauty, as well as poise and presentation. Emphasis is put on the importance of developing self-confidence, learning good sportsmanship, as well as setting and achieving personal goals. The NAM program serves girls 4-18. If you're interested in learning more about Zoephia Decker-Knealing, her clothing line or seeing her compete, please visit Zoephia.com for more information.
###