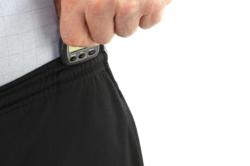 Pedometers are the best and most inexpensive way to target a large number of people and encourage them to be more physically active.
London (PRWEB UK) 27 June 2013
Exercise, weight loss, and better health are all growing matters of concern for people in the UK, especially with the rising count of patients being admitted with heart disease. The British Heart Foundation has stated that in 2012, heart and circulatory diseases caused more than a quarter of all deaths in the UK, and accounts for more than 159,000 deaths per year. The total cost of premature deaths, lost productivity, hospital treatment, and prescriptions was estimated at £2 billion each year. British Heart Foundation statistics go on to state that in the UK over 750,000 people are living with heart failure, there are around 103,000 heart attacks per year, and every seven minutes someone dies of a heart attack in the UK. Most of the deaths from heart disease are caused by a heart attack and 1 in 3 people have a heart attack and die before reaching the hospital. To make matters worse it is estimated that there will be more than 25,000 new cases of heart failure in the UK this year.
The World Health Organisation stated in the Prevention of Cardiovascular Disease Guidelines that all individuals should be strongly encouraged to take at least 30 minutes of moderate physical activity--one example stated being brisk walking--each day, through leisure time, daily tasks, and work-related physical activity. However, the British Heart Foundation statistics that gauged the activity level in the UK showed that less than half of the adults in the UK meet the UK Government recommendations, and the proportion is declining with age.
With British citizens leading increasingly busy lives, often juggling more than one job at a time, the options and time for physical exercise are declining by the day. At present only 14% of the UK has regular exercise due to busy schedules. Science News published an article named "Some Exercise Is Better Than None" in August, 2011. However, despite it's date the article clearly levels a beacon of hope for busy British folks in 2013 through stating that even a small amount of physical activity will help reduce heart disease risk, and the benefits will increase as the amount of activity increases. According to a quantitative review by Circulation, the journal of the American Heart Association, people who engage in 150 minutes of moderate-intensity leisure activity had a 14% lower risk of coronary heart disease (CHD) compared to those who reported no exercise or physical activity at all.
A study completed on May 30, 2013, by the Indiana University School of Public Health-Bloomington conducted a 12-week research with 22 men and women between the ages of 40 and 66 years to test their physical activity levels. The participants wore a pedometer each day for 12 weeks to track their lower leg movements. The pedometer was connected to a computer to track the amount of leg movements over time and download them in a graph format. Participants who didn't have adequate leg movement were guided by emails on nutrition tips and instruction to be more active twice a week. The result of the study was that each participant become more physically active and a mean weight drop among the men and women of nearly 2.5 pounds was seen. Saurabh Thosar, an associate instructor at the university said, "Even if somebody works out 30 minutes a day, the fact that they are sitting and not moving for long periods of time for the rest of the day is, in and of itself, detrimental to their health and well-being, physiologically."
The British Heart Foundation advises individuals who are not able to take time out of their schedule for a full 30 minutes of exercise, to turn to walking as the next best form of exercise that can be incorporated with stressed schedules and busy lives. Healthday News stated on June 6th, 2013 that "pedometers are the best and most inexpensive way to target a large number of people and encourage them to be more physically active".
Pedometers and step counters are proving to be increasingly useful tool in helping keep a track of personal activity patterns and seeing if they are in check with public health guidelines. More and more researches are popping up that show that pedometers are probably the best low-cost motivator for sitting less and walking more, especially for those who have a desk job.
References:
http://www.bhf.org.uk/media/news-from-the-bhf/bhf-facts.aspx
http://www.who.int/cardiovascular_diseases/guidelines/PocketGL.ENGLISH.AFR-D-E.rev1.pdf
http://www.sciencedaily.com/releases/2011/08/110801161414.htm
http://www.ncbi.nlm.nih.gov/pubmed/10993418
http://www.nlm.nih.gov/medlineplus/news/fullstory_137576.html