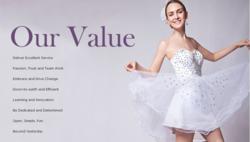 (PRWEB) June 27, 2013
MMdresses.com, a leading company of women's dresses, has just released its new collection of maternity prom dresses, and announced a special offer on all its prom dresses. Now, all people worldwide can enjoy the big discounts, up to 60% off, offered by MMdresses.com before July 10, 2013.
The new maternity prom dresses come in many different designs, like tartan, stripes, floral patterns, polka dots, and solid colors. The client-oriented outfits and services have helped MMdresses to become a leading brand among many dress companies. Now, the business is striving to help ladies to save thousands on prom attire.
"We are really happy to offer the discount prom dresses to ladies worldwide, and make our dresses available to more clients. Please visit our website now! Many ladies are finding incredible deals on their gowns at MMdresses.com," says the CEO.
Some online dress suppliers make their customers pay shipping and charge high rates for all of their shipping orders. MMdresses.com is providing an opportunity to its clients to buy cheap prom dresses online. The CEO adds, "If you're searching for trendy prom dresses from top designers, we have an amazing selection of 2013 dresses for you. Moreover, our new collection of Quinceanera dresses 2014 will be available soon."
About MMdresses.com
MMdresses.com is an award winning wedding dress manufacturer and retailer, offering a wide range of wedding dresses, cocktail dresses, bridesmaid dresses, evening dresses, and more. At MMdresses, ladies will receive professional help directly from dress experts. The company aims to deliver ladies worldwide all kinds of dresses at prices as low as possible.
More information can be found at http://www.mmdresses.com/