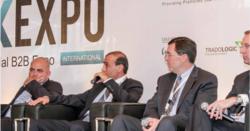 Cyprus remains one of the most important Forex hubs and presents many advantages that are not available in other countries.
Limassol, Cyprus (PRWEB) June 27, 2013
The iFXEXPO event that recently took place at the Grand Resort Hotel in Limassol, Cyprus was a huge success. One of the largest financial B2B conventions, the iFXEXPO takes place once a year and aims to connect service providers from all over the world as well as promote networking with leading industry firms and executives. Mr. Johny Abuaitah, CEO of Windsor Brokers Ltd., the largest investment firm on the island based on status, capital and experience was invited to join a debate accompanied by other senior representatives of the FX industry.
The other senior representatives were Mr. Stavros Hadjikyriacou from Traders Trust Capital Markets Ltd. (Cyprus), Mr. Daniel Skowronski from Alpari (UK), Mr. Glenn Stevens from Gain Capital (USA) and Mr. Pambos Panayiotou from Trading Point of Financial Instruments (Cyprus).
The subject of the debate was whether Cyprus Forex brokers can compete on a global landscape, especially after the recent wave that hit the island's banking sector in March. All five VIPs agreed that even after what happened, Cyprus remains one of the most important Forex hubs and presents many advantages that are not available in other countries. The main benefits that were mentioned were its solid jurisdiction, its geographical location, EU passporting, favourable tax system, good infrastructure and highly qualified workforce. For these reasons, there has not been an outflow of brokers.
Mr. Skowronski stated that the recent move of Alpari Cyprus was based on cost cutting measures and because regulations were similar to the FCA. He also mentioned that Cyprus has the necessary infrastructure and talent pool for the FX industry and that it is probably the second country that really understands Forex next to Japan. In addition, he congratulated CySec for regulating binary options trading as it is a good way for a beginner to learn how to trade.
Mr. Abuaitah pointed out that Cyprus has gained great momentum over the last few years. On one hand, he believes that there could be an outflow of brokers at a later stage and this would not be due to the crisis but for the same reason that many brokers left the US, Switzerland and other countries… and this was due to reinforced regulations. On the other hand, there has been an inflow of brokers including subsidiaries and white labels who have relocated to Cyprus who are willing to adopt the new regulations that are in the pipeline, expected to be implemented in the year 2014.
Another interesting point that was brought up during the one-hour debate was the unnecessary finger-pointing at Cyprus from certain brokers who although equally regulated by European entities, caused bad publicity and tried to question its safety. "Windsor has been active in the financial markets for 25 years. We have therefore experienced the dynamic evolution of regulations in Cyprus", said Mr. Abuaitah. He also stated that it is unfair to see other respectable EU brokers tell investors to stay away from Cyprus claiming it is a 'risky' country as the issue is not whether a broker has money in Cyprus or not but a safe or a troubled bank, wherever that bank may be.
All members of the debate came to the conclusion that what matters most for competition are the products and services offered by brokers and that the FX market is so big that everyone can have a piece of that niche market with fair play.
About Windsor Brokers Ltd.
Windsor Brokers Ltd. is licensed/regulated by CySec (Cyprus), EEA authorized by the FCA (UK), registered with the AMF (France) and BaFin (Germany) and complies with MiFID.
About the iFXEXPO
The iFXEXPO is a series of expos focused on the retail finance industry. Although the iFXEXPO International in Cyprus is the flagship event, other expos were also held in China and soon in Japan.