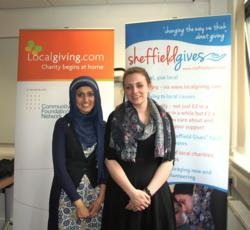 I found the workshop very informative, it gave me lots of new ideas.
London (PRWEB UK) 27 June 2013
Localgiving.com is the UK's leading platform for local charities and community organisations. Using online marketing and donation tools, groups can raise funds and awareness in their own communities. Even charities too small to register can receive Gift Aid through Localgiving.com, boosting donations by 25%.
Over 3,500 local charities and community groups have already signed up to Localgiving.com raising over £4 million in donations and matched funds.
Charities wishing to learn more about online fundraising and how Localgiving.com works, can attend a free training workshop on:
Date: Tuesday, July 2, 2013
Time: 2:00 – 4:30 pm
Venue: The Circle, 33 Rockingham Lane, Sheffield S1 4FW
One group atttending a previous workshop is Victoria Community Enterprise from Norfolk Park. Vice Chairman, Geraldine Roberts said: "As a representative of a small organisation which has no experience of online giving, I found the workshop very informative. It gave me lots of new ideas. Thank you."
To attend the workshop, or to find out more about complimentary subscriptions to Localgiving.com, please email vajiha.hameed(at)localgiving(dot)com, or call 0300 111 2340. Places are limited and are expected to be filled quickly so contact Localgiving.com soon. To sign up with Localgiving.com go to Localgiving.com charity sign up.