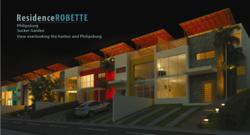 This townhouse project was born from the great need in the community for good urban development that affordable and fill a niche in the housing market – the mid-priced Caribbean homes.
Sucker Garden, St. Maarten (PRWEB) June 29, 2013
Eco-friendly, affordable, innovative and owner financing are the key descriptions of St. Maarten's newest real estate development - The Green Arch project's Residence Robette - set for ground breaking in August.
This 22 three-level townhouse project in Sucker Garden is specially geared to first time home buyers with owner financing in a rent-to-own framework. The townhouses are priced at US $270,000 with no down payment for qualified buyers and an eventual mortgage rate as low as six per cent.
Century 21 Island Realty is the exclusive agent from this one of a kind project that makes eco-friendly living affordable pertinent to everyday life. The real estate agency is also pre-qualifying potential buyers for Green Arch Developer Demitrus Marlin.
Century 21 Head Broker Ritika Asrani says the agency is excited to be part of Green Arch and is happy that Developer Demitrus Marlin chose to work with Century 21 agents. "Green Arch has already received quite some attention. We have a rather diverse group of people showing interest and pre-qualifying for the townhouses."
Marlin is equally elated to work with Century 21. "I feel confident with the way Century 21 Island Realty conducts its business, especially head broker Ritika."
This townhouse project was born from "the great need" in the community for "good urban development" that is affordable and fills a niche in the housing market – the mid-priced Caribbean homes, says Marlin.
Asrani adds: "We lack inventory in this area. It is almost non-existent. Demitrus is not just a developer; he has a passion to see people stop renting and eventual own their home. This is where the rent-to-own approach works best."
Additionally, Marlin says, "Yes, I am running a business, but there is a social side too. In today's business world if you don't have a social side you don't survive long."
Qualifying buyers will pay a rent for the first two years of signing the rent-to-own agreement. That rent will be counted to the down payment for the townhouse and cover the repayment of the notary and other transfer fees. After the two years, the buyer will be able to acquire a mortgage having made the requisite down payment.
The first floor of these 245 square metre/2,637 square foot townhouses will feature a living room, kitchen, dining room and a full bathroom. The first two bedrooms with walk-in closets and full bathrooms and laundry room are on the second floor. The master bedroom with walk-in closet and full bath with a terrace is on the third floor.
Green Arch's Residence Robette will be built in phases over two-and-a-half years. The townhouses will be built with energy efficient 3D panels, solar panels on the roof, security cameras and a playground. All grey and black water from the homes will be connected to a water treatment plant for processing and reuse for landscaping and gardening. Townhouse owners can request the treated grey water to be reused to flush toilets.
All kitchens cabinets will be outfitted with oak, cedar and stainless steel hardware. Counter tops will be made from granite. Stairs will be from hardwood.
Marlin says there is already "firm commitment" from several buyers for the various phases of this gated community overlooking the Dutch side's capital Philipsburg and the Great Bay Harbour.
About Century 21 Island Realty
Experience and knowledge of St. Maarten/St. Martin, Saba, Statia, St. Barths and Anguilla are cornerstones of Century 21 Island Realty in St. Maarten. Our realty company has been voted as number one in St. Maarten for five consecutive years. Century 21's agents recognize that their reputation is their strength. Reputation is indeed a plus, because the majority (some 80 per cent) of Century 21's business is generated via client referrals, many from the luxury market. The management team has the most accomplished professionals in real estate. They represent more than 50 years in the business.