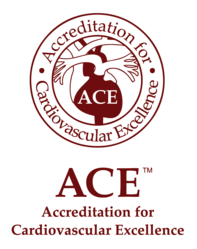 We [sought] accreditation through ACE because they are the only accreditation system that provides cardiac cath lab certification. ACE validate[d] [us} based on global best practice. - Mr. Keith Barron, Quality Assurance Coordinator, KFSHRC, Heart Centre
Washington, DC (PRWEB) June 27, 2013
The Accreditation for Cardiovascular Excellence (ACE) confirmed full accreditation status for the King Faisal Specialist Hospital and Research Centre (KFSHRC), the first international facility to achieve the distinction of ACE accreditation. "Not only is the King Faisal Specialist Hospital and Research Centre the first international hospital to achieve ACE accreditation," stated Mary Heisler, RN, BA, Executive Director, ACE, "but their processes are very efficient due to the talents of the global team."
Located in Riyadh, Saudi Arabia, KFSHRC is a government sponsored facility with over 8,000 employees and more than 1,000 acute care patient beds providing tertiary care services for the capital and the region. The cardiac cath lab is established with state-of-the-art technologies and policies that are compliant with current guidelines from the major professional societies. "We decided to seek accreditation through ACE because they are an independent third party organization sponsored by SCAI and ACCF. In addition, they are the only accreditation system that provides cardiac cath lab certification. As a hospital and research facility that treats patients from all over the world, we looked to ACE to validate our processes based on global best practice," said Mr. Keith Barron, Quality Assurance Coordinator, KFSHRC, Heart Centre.
The leadership team of the Heart Centre include: Dr. Jehad Al Buraiki, Director; Dr. Majid Al Fayyadh, Deputy Director; Dr. Hani Al Sergani, Section Head of Adult Cardiology; Mr. Keith Barron, Quality Assurance Coordinator. Leadership for the cardiac cath lab include: Dr. Hani Al Sergani, Medical Director; Mr. Abdulkareem Al Humaidan, Manager, and Ms. Jeyarani Ezhilrajan Assistant Head Nurse. "The accreditation by ACE of the King Faisal Specialist Hospital and Research Centre points to the fact that quality is an international goal," said Dr. Bonnie Weiner MD MSEC MBA, CMO and Board Chair for ACE. "Proving quality standards are universal; ACE certifies that your cardiac cath lab is ahead of the curve in meeting appropriate care standards no matter where in the world you practice."
About King Faisal Specialist Hospital and Research Centre
King Faisal Specialist Hospital & Research Centre provides the highest level of specialized healthcare in an integrated educational and research setting.
http://www.kfshrc.edu.sa/wps/portal/En
About Accreditation for Cardiovascular Excellence
ACE, an independent organization sponsored by the Society for Cardiovascular Angiography and Interventions (SCAI) and the American College of Cardiology Foundation (ACCF), offers independent evaluation and monitoring of facilities that provide cardiovascular care. By reviewing facility and operator performance and comparing clinical decision-making to nationally accepted best practices, ACE peer review and accreditation services plays a critical role in continuous quality improvement programs. Learn more at http://www.cvexcel.org.