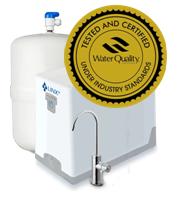 We're especially proud of this certification because it recognizes the commitment we've made to produce drinking water systems that not only reduce nitrates and nitrites, but reduce them to non-detect levels.
San Carlos, CA (PRWEB) June 28, 2013
Last week, the Water Quality Association (WQA), a non-profit association representing the water treatment industry, awarded Pionetics® Corporation's LINX® Drinking Water Systems the Gold Seal for nitrate/nitrite reduction.
The Gold Seal identifies those products that meet rigorous health and safety standards based on standards set by the American National Standards Institute and National Sanitation Foundation. To learn more about what Gold Seal Product Certification means to consumers, watch this video.
"We're especially proud of this certification because it recognizes the commitment we've made to produce drinking water systems that not only reduce nitrates and nitrites, but reduce them to non-detect levels," stated H. Martin Jessen, Vice President of Pionetics Corporation. Jessen continues, "Nitrate/nitrite contamination is a growing concern and is in fact the most common groundwater contamination problem in the U.S. This is particularly a problem in California and other agricultural areas where millions of people are relying on contaminated groundwater for their drinking water supply."
The U.S. Environmental Protection Agency has estimated that across the nation as many as 52 percent of community water wells and 57 percent of domestic water wells are contaminated by a measureable amount of nitrates and nitrites. In some of California's fastest growing regions, such as Los Angeles and the San Joaquin Valley, one in every three domestic wells has nitrate contamination in levels that far exceed public health limits. This has led to strict standards requiring municipal water systems to be responsive to the need for increased testing and treatment.
"We applaud those larger communities that have stepped up to the plate to protect public drinking water systems. I think the real concern, however, is for the families that use water from private wells or from those water systems that are too small to be adequately regulated by and able to comply with the federal standards. It's often up to those folks to test their own water on a regular basis and find water treatment solutions that will solve their particular contaminant problem," explains Jessen. No standards or oversight exist for private wells and according to the U.S. Census Bureau, roughly 15.2 million households rely on private domestic wells that could easily be contaminated by nitrates or other chemical or biological substances.
Jessen said, "The fact that systems such as the LINX 160 drinking water system produce non-detect levels of nitrates and nitrites in the product water is a further reason for health officials to approve the usage of point-of-use systems rather than force people to wait for the funding and construction of centralized treatment facilities when there is no apparent source to fund these facilities."
Nitrates and nitrites at higher levels are toxic and particularly dangerous for infants and children, in some cases causing brain damage and even death. In adults, the compounds can cause dizziness, headaches, irritability and blue skin tones. Pregnant women exposed to high levels of nitrates and nitrites can experience intrauterine growth retardation, cardiac defects, and nervous system defects.
Homeowners no longer have to question the safety of their water, or the reliability of their testing agency or municipality. Installing a LINX Gold Seal Certified water treatment system will provide immediate protection. To learn more about how the system removes nitrates and nitrites to non-detect levels, go to this video to see how the LINX technology works.
Presented in the attached is a table excerpted from the LINX Performance Data Sheet that is included in the final certification test data illustrating the Nitrate and Nitrites test results.
LINX Drinking Water Systems are available in two Under-the-Sink models or as a Bottleless Water Cooler. The systems allow for several important and unique features not offered by any other drinking water system:

Significantly less water waste than Reverse Osmosis (RO) – see the video Insane Water Waste,
Operates using programmable software and display indicator lights that provide the consumer with detailed yet simple information about the system status,
Dial-A-Taste® Control that allows the consumer to customize the taste of their drinking water for more or less mineral content.
Field Service Assistant which enables the technician to reprogram the LINX unit based on feedwater quality, further optimizing water recovery rates, customizing the system's performance, and maximizing effectiveness and efficiency.
Simplicity of installation and servicing of the equipment.
LINX technology is also available for integration with existing systems. Anyone interested in the LINX technology, or in becoming a distributor or dealer anywhere around the world, should contact H. Martin Jessen at 480-836-0887.
About Pionetics Corporation:
Pionetics is an innovative water technology company that develops smart water treatment products that produce great tasting, safe drinking water with less wastewater than traditional water treatment systems. Pionetics is privately owned and financially backed by Kline Hawkes & Co, NGEN Partners, and Unilever Technology Ventures Fund.
Pionetics is located in San Carlos, CA. To date, Pionetics has been issued over 50 patents worldwide to protect its proprietary know-how and innovative technology.
Contact: H. Martin Jessen
480-836-0887
mjessen(at)pionetics(dot)com