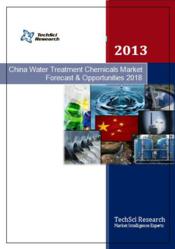 The major share in the current market scenario is held by Nalco China and GE Water & Technologies for water treatment chemicals
(PRWEB) June 28, 2013
Growing water stress and elevating environmental concerns in various provinces across China, exhibit huge potential for the water treatment chemicals. One of the key factors contributing to the growth is the government's initiatives in the 12th FYP, in which it has put 'Energy Conservation and Environmental Protection' on priority.
According to a recently published report by TechSci Research, "China Water Treatment Chemicals Forecast & Opportunities 2018," the water treatment chemicals market in China is expected to reach USD 3.3 Billion by 2018. The major share in the current market scenario is held by Nalco China and GE Water & Technologies for water treatment chemicals. In the coming years, the share of MNC's in the overall water treatment chemicals market is further expected to improve. According to the report, the unorganized and fragmented water treatment chemicals industry in China will move towards consolidation by 2018. This will be influenced by the government's initiatives and increasing capacity addition along with forward integration by the large MNCs.
"Chinese Government's initiative towards favorable policies like decrease in water consumption per unit of value added industrial output, decrease of standards in emission of major pollutants and increase in the water reuse target, would help further boost the market. The major growth is expected in the waste water treatment chemicals segment as a result of binding policies related to industrial waste water treatment. MNCs are taking initiatives by developing green chemical products and nanotechnology products in order to efficiently manage the water treatment program," said Mr. Karan Chechi, Research Director with TechSci Research a research based global management consulting firm. The report details about companies operating in China which came up with green chemical solutions and also analyzes optimum value generated by adopting green chemical alternatives.
"China Water Treatment Chemicals Market Forecast & Opportunities, 2018" has evaluated the future growth potential of China's water treatment chemicals market and provides statistics and information on market structure, industry behaviour trends. The report includes water treatment chemicals market projections and demand forecasting. The report is intended to provide cutting-edge market intelligence and help decision makers to take sound investment evaluation. Besides, the report also identifies and analyzes the emerging trends along with essential drivers, challenges and opportunities available in water treatment chemicals market in China.