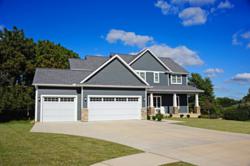 Arthur, IL (PRWEB) June 28, 2013
C.H.I. Overhead Doors is heating up the season with a sales promotion on the 2290 Series of its garage doors. This promotion is a web-based direct-to-consumer rebate program, offering $50 or $75 off each 2290 Series door purchased (up to 3 doors) between May 7th and July 31st of 2013. To be eligible for this rebate, the homeowner will be required to fill out an official rebate form and mail or fax it to C.H.I. Overhead Doors with a copy of their invoice or receipt from their dealer. For more details, terms and conditions and a copy of the official rebate form visit the C.H.I. website at http://www.chiohd.com/sales-event.
C.H.I. Overhead Doors is a prominent manufacturer of high-quality Residential and Commercial Sectional and Rolling Steel doors. Started in 1981 in Illinois Amish Country in Arthur, C.H.I. has risen to become an industry leader in innovation and quality. A mix of hand-made craftsmanship and computer-aided precision join together to make C.H.I. Overhead Doors...The Door To Quality.