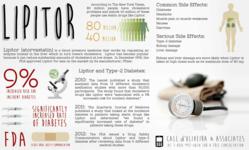 (PRWEB) June 29, 2013
Lipitor (atorvastatin) is a blood pressure medicine that is included in a class of drugs known as statins. It is used to lower cholesterol by regulating a specific enzyme in the liver. According to The New York Times, 80 million people have cholesterol problems and about half of these people use statins like Lipitor (i). Lipitor was first approved by the FDA in December 1996 and it quickly became a blockbuster drug for its manufacturer, Pfizer. In fact, according to CNN Money, the drug's sales peaked in 2006 at almost $13 billion (ii). In recent years, Lipitor's sales have dropped because its patent has expired and new information has been released about possible side effects associated with the drug.
In February 2012, the FDA released a Drug Safety Communication warning that statins like Lipitor could raise blood sugar levels and in turn increase the risk of diabetes. The FDA based this warning on 9 medical studies. One study of more than 90,000 people found that "statin therapy was associated with a 9% increased risk for incident diabetes." Another study of more than 170,000 people found "a significantly increased rate of diabetes" in statin patients (iii). Since the FDA warning, additional studies have investigated the possible link between Lipitor and type-2 diabetes. The most recent study was published on May 23, 2013 in the British Medical Journal. It examined medical records from more than 1.5 million Canadians. The researchers conducting the study discovered that "those treated with atorvastatin [Lipitor] faced a 22% increase in the risk of new onset diabetes." Out of all of the statin drugs tested in this medical study Lipitor had the highest incidence of diabetes (iv).
Attorney Paul d'Oliveira stated, "Our law firm has been releasing infographics about drugs and medical devices because a patient who has been taking a drug like Lipitor for the past 10 years may not be aware of new FDA warnings or new medical studies. Patients have a right to know the long-term effects of the drugs they are taking." The new information graphic provides Lipitor patients with information on possible side effects, FDA warnings, and recent medical studies. Visit the Lipitor webpage and view the Lipitor infographic.
d'Oliveira & Associates has been handling personal injury and Social Security Disability cases for the past 24 years. The firm been investigating drugs like Lipitor and it works with some of the more experienced lawyers who handle these cases. Call 1-800-992-6878 for a free legal consultation or fill out a contact form online.
(i) The New York Times, March 30, 2010.
nytimes.com/2010/03/31/business/31statins.html?pagewanted=all
(ii) CNN Money, November 30, 2011.
money.cnn.com/2011/11/30/news/companies/pfizer_lipitor/index.htm
(iii) FDA Drug Safety Communication, February 28, 2012.
http://www.fda.gov/drugs/drugsafety/ucm293101.htm
(iv) British Medical Journal, May 23, 2013.
http://www.bmj.com/content/346/bmj.f2610