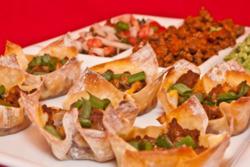 Adams, Nebraska (PRWEB) June 28, 2013
To celebrate National Bison Month this July, NebraskaBison.com is taking on 31 Days of Bison recipes. During the entire month, NebraskaBison.com's marketing director and photographer will be creating, tasting, documenting and posting online one new recipe centered around bison each day. The National Bison Association promotes July as National Bison Month, a time in which American bison producers across the country promote the delicious taste and nutritional benefits of bison burgers, steaks and more as a summer grilling alternative.
The recipes will use most of the cuts that are available for purchase online at NebraskaBison.com. This includes recipes for a wide variety of products including several steaks, ground bison, roasts, short ribs, pastrami, hot dogs and more. The month's recipes will include dishes such as: Bison Stuffed Peppers, Spicy Buffalo Burgers, French Dip Sandwiches, BBQ Buffalo Steak Salad and Bison Won Ton Tacos.
To follow along, visit 31DaysOfBison.com where you will find a new recipe posted daily throughout the month of July accompanied by photos, weekly blog posts, occasional videos and links to follow along via social media.
NebraskaBison.com already has a fairly large collection of bison recipes available for customers and bison meat lovers on their website which are also shared throughout popular social media sites. This collection aims to help consumers get the most out of their bison meals by providing tips, recipes and ideas for cooking bison meat. The key to 31 Days of Bison is that each of these new recipes will be brand new to NebraskaBison.com's recipe collection, offering a new twist to classic favorites or new ideas to offer variety and spark creative cooking.
About Buffalo Meat
As people look for ways to continue enjoying great taste while still adhering to diets and healthier lifestyles, many have been looking towards bison (commonly referred to as buffalo). Bison is lower in fat, calories and cholesterol than other meats - including chicken - while exceptionally high in protein. Bison are raised naturally, without antibiotics, hormones or steroids.
About NebraskaBison.com
NebraskaBison.com is owned by Randy and Jane Miller and based out of Adams, Nebraska. NebraskaBison.com ships all natural, dry aged bison meat directly to consumers all over the United States of America. Product offerings include standard cuts such as: bison steaks, burger, roasts and jerky, as well as harder to find items including: hot dogs, pastrami, short ribs, bison steak & burger seasoning and prime rib. For more information, visit: NebraskaBison.com