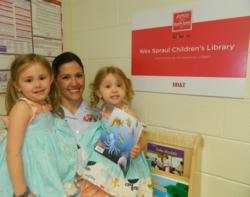 FALLS CHURCH, VA. (PRWEB) June 27, 2013
BB&T Bank volunteers spent the morning decorating a brand new library at the Easter Seals Child Development Center with books, shelves and furniture on June 25. The items were generously donated by BB&T Bank.
The library was then dedicated to Wes Spraul, an FMF Navy Corpsman wounded warrior who was killed in a traffic accident earlier this year. Spraul was the father of Alana (4) and Ava (2). Both girls attend the Easter Seals Child Development Center in Falls Church and are participants in the Easter Seals Military Family Respite Program.
"Easter Seals truly appreciates the assistance of BB&T in creating a new library for our children and honoring the memory of Wes Spraul," said Center Director Sophia Berry. "Wes was a wonderful father to his two girls, who continue to carry on his joyful spirit every day and make the Center a happier place. He truly embodied the heart of Easter Seals."
The volunteers also participated in classroom activities by reading books to the children, assisting with arts and crafts projects and even showing off their best aerobic dance moves.
"We are very fortunate to partner with Easter Seals and observe the direct impact that the organization has on the daily lives of these children," said BB&T Bank volunteer Kelley Redfern. "We look forward to doing more work with Easter Seals soon."
The new books and shelves will be transferred to a new center on Hunton Avenue, which is scheduled to open in November. The library has been named "The Wes Spraul Children's Library."
Easter Seals Serving DC | MD | VA Child Development Centers serve children with and without disabilities, from six weeks to five years of age. The high-quality child development program offered at the Center is inclusive, National Association for the Education of Young Children (NAEYC)-accredited and Department of Defense (DOD)-approved. It provides early childhood education, childcare, early intervention and parental support. The program utilizes a multi-disciplinary team approach to provide integrated services for children within the classroom.