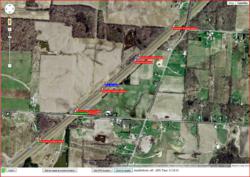 The technology essentially rewrites the way that elements can be captured and reported from the field.
Columbus, Ohio (PRWEB) June 28, 2013
Resource International, Inc. (Rii), a rapidly-growing asset management and technology firm, announces the release of advanced infrastructure management software, iiCollector, formed in collaboration with Google Maps. This technology is a new component of Rii's successful password-protected, project management website, ProjectGrid.comTM.
ProjectGrid.comTM has been well known as a superior project management and construction management web-based solution for numerous projects in the A/E/C industry. This interactive website is a project management platform, created to allow all parties of a project to communicate and share information effectively and efficiently throughout the duration of the project. The Information Technology team at Rii has now advanced this technology to include the iiCollector, an infrastructure asset manager with infinite flexibility.
Powered by Google Maps, the iiCollector is a flexible, customizable asset management system used to rate both pavement and non-pavement elements using a handheld device.
The system has two components: a field data collection web app available on smartphones and tablets and the ProjectGrid.comTM software working on desktop computers to create reports, maps and additional output.
Using the iiCollector in the field, technicians are able to rate roadway deficiencies in the categories of drainage, guardrails, medians, pavements and traffic. Deficiencies such as potholes, debris on the road and high drop-offs are dangerous for motorists. According to the Transportation Research Board, roadside crashes account for one-third of all U.S. highways fatalities each year. Many of these highway deaths and injuries result from crashes into trees and poles, located dangerously close to the edge of the roadway. By flagging these deficiencies early and quickly, Rii believes the iiCollector can play a pivotal role in providing safer roads for motorists across the country.
The iiCollector is efficient for both the technician and the client, eliminating expensive and bulky equipment and cutting out a time lapse for entering data back in the office. The technology essentially rewrites the way that elements can be captured and reported from the field. Data can be recorded easily on a smartphone or tablet and sent instantaneously back to the office for review.
Rii technicians are currently using the iiCollector technology on pilot projects in the field, and finalizing its development. It is scheduled to be released to the general public within the coming months. Visit http://www.projectgrid.com today and click "request info" under the "tell me more" tab to sign up to be one of the first to download this remarkable product when it becomes available.
About ProjectGrid.comTM
ProjectGrid.comTM is an interactive, password-protected, project and program management Web site. ProjectGrid.comTM provides a centralized database to host your project information that can be accessed anytime, anywhere through the World Wide Web. Each team member receives a unique password to log into the site and access the information to which they have authorization. The system works in conjunction with email to notify members of updates and changes immediately.
By using the ProjectGrid.comTM project Web site, risk is reduced by keeping a clear audit trail of documentation and keeping all team members accountable. Furthermore, using such a communication center for project-critical information promotes a paperless environment, significantly increases efficiency, and saves time and money with fewer communication bottlenecks, thus ensuring your project is completed on time and within budget.
The vast benefits of utilizing ProjectGrid.comTM on design projects include: Project hierarchy, flexible and fully customizable document management, file notifications, redlines/comments, revision control, tracking and managing meeting minutes, and an automated RFI handling system to improve collaboration between various participants on a project.