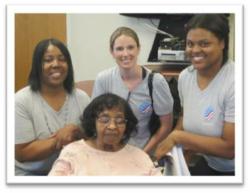 Washington, DC (PRWEB) June 27, 2013
The Disabled Veterans National Foundation, a non-profit veterans service organization that focuses on helping men and women who serve and return home wounded or sick after defending our safety and our freedom, recently visited the Salem VA Medical Center, bringing comfort items to 25 veterans.
The visit to the Roanoke-area VA center was an outreach effort by the staff of DVNF to engage with veterans. A similar visit was taken recently to the VA in Richmond as part of a Mid-Atlantic region VA site visit.
DVNF staff brought basic comfort items to the veterans residing in the Salem VA Community Living Center. The items were mostly basic hygiene supplies such as toothpaste, toothbrushes, socks and deodorant. Staff members stated that they were pleased to be able to visit with these veterans and give them a few items they thought would be useful. They also reported that despite adverse situations that some of the veterans had faced in their lives, they were very satisfied with the care that the Salem VA provided, which is a true testament to the dedication of the VA medical staff.
"We spoke with many of the veterans at the Center, many of whom were Vietnam-era veterans," said one of DVNF's program staff members. "One of the veterans, when asked if she would provide a quote for us, simply said, 'Keep on running, seek your goal.' We thought that was an excellent example of the determined mindset that veterans have, no matter what their situation might be."
DVNF was delighted to be able to make the visit, and stated that they would like to return in the future. For more information please visit dvnf.org.