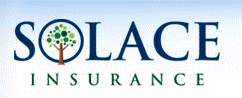 "We are now in the midst of what is largely considered the most destructive season in Florida
Largo, FL (PRWEB) June 27, 2013
Largo-based insurance agency, Solace Insurance recently hosted a roundtable discussion with Florida's Chief Financial Officer (CFO), Jeff Atwater. In attendance were 35 small business leaders in Pinellas County that participated in the conversation focused on protecting the financial well-being of Florida citizens and businesses.
The event, which was sponsored by the Clearwater Regional Chamber of Commerce, was held to give small business leaders in South Florida the opportunity to discuss with Atwater any issues afflicting their industry. Specific to his discussion was insurance fraud, which is widespread in Florida. According to Atwater, insurance fraud is up 44% since 2012 – his office currently puts up to four people behind bars every day for insurance fraud.
For the current fiscal year (FY) of July 1, 2012 to June 30th, 2013, the Division of Insurance Fraud (DIF):
•Through the end of April (first ten months of FY) made well over 1,200 arrests, exceeding last year's record of 1,228;
•DIF has made well over 1,800 arrests in the last 14 months;
•Arrested over 250 "enablers." These are a class of criminals that we now track where the insurance fraud could not have happened without their vital role being played (1).
In addition to Florida's abundant insurance fraud, also at the epicenter of discussion was the state's plan of unloading the policies of insurance giant, Citizens Property Insurance Corp., among start-up insurance companies. Atwater says the move will allow private insurance companies back into the marketplace in Florida. Solace CEO, Bob Childress, agrees and favors being able to help a larger base of Floridians with this privatization. Childress feels that the move will put residents in a more financially-sound environment with their home insurance.
With hurricane season now in full effect, Childress insists that Florida residents, in particular, must ready themselves for the worst possible outcome. Childress says residents should look out for four key qualities when seeking new insurance when Citizens leaves:
1. Good representation and reliability. Should there be an unexpected catastrophe, the insurance agency of choice should have a strong catastrophic plan to help clients recover in the event of natural disasters. Look for an agency able to articulate the different types of protective options available to homeowners. Remember that one disaster has the potential to destroy everything.
2. Agency ratings and reviews. Learning about others' experiences with an insurance agency gives a rough estimate on what to expect from its agents – ask the selected agency for references.
3. Policy types. Consider the types of policies required for home or business now, as well as those possibly needed in the future. Look for an agency that adequately explains which policies are needed to ensure that the correct amount of coverage is being given. In general, policies with major exclusions, exemptions, or those that are nonrenewable should be bypassed.
4. Education. A vital component of any reputable agency is the expertise of its agents. Look for an agency which spends a considerable amount of time training its agents – qualified insurance agents should know the technical aspects of the industry and understand how economic and social conditions factor into the insurance industry.
Childress says point number four is the most crucial. "We are now in the midst of what is largely considered the most destructive season in Florida," said Childress. "The potential for damage should be undercut at every opportunity and that is the crux of [Solace's] mission."
Because Solace consistently upgrades its technology to remain competitive in the industry, the agency regularly handles an onset of high volume of calls and customers needing attention and coverage. Solace has taken steps to remain abreast of technological advances in the industry and offers its customers innovative methods of securing and managing insurance programs.
Childress is a Board Member of the Clearwater Regional Chamber of Commerce and appreciates the Chamber's help in allowing members interested in the political process to become more actively involved in issues and legislation that impact business in the community.
"Creating forums such as the [CFO meeting] allows [Chamber members] to speak with policy makers and ultimately get a step closer to our goal of creating a more business-friendly environment," said Childress.
Solace Insurance is the recipient of many prestigious awards, including most recently, its recognition by Safeco Insurance as a "Premier Partner" for its quality service and commitment to customers.
For more information about Solace Insurance and its services, visit http://www.restinsured.com.
About Solace Insurance:
As an independently-owned, full-service agency based out of Largo, Florida, Solace Insurance has provided quality insurance products to customers for 30 years. Solace is licensed as an agent with over one billion dollars in property insured and has been recognized by many of these companies as a top performing agency. This status is what allows us to offer our customers the most competitive and economical programs available, all while providing expert advice and quality service. From standard auto policies to the more complex multi-tiered insurance programs, Solace has the depth of resources to find just the right policy for each individual and company.
1.Myfloridacfo.com. Division of Insurance Fraud, n.d. Web. 13 June 2013. myfloridacfo.com/division/fraud/default.htm.