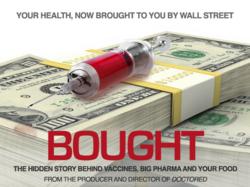 Salt Lake City, UT (PRWEB) June 27, 2013
Jeff Hays today announced that principal photography has begun on the new documentary film – Bought. A new crowd funding campaign at indiegogo.com has an early trailer.
At one point in history, glyphosate was considered as safe as an aspirin, but that safety has been questioned not only by experts but scientifically through studies. Glyphosate, found in Monsanto's popular Roundup product, is the most widely used pesticide by volume. Why? Chemical companies introduced genetically engineered (GE) seeds which were specifically designed to withstand heavy sprayings of weed killer cocktails containing such ingredients as glyphosate. Since 1990 the use of weed killers, including Round up, has jumped nearly 900 million pounds. (i)
What's wrong with glyphosate? Bought is a film dedicated to uncovering, exposing and highlighting the facts all individuals have a right to know. Facts about things like glyphosate and its link to:
•Disease - According to a new paper published in Entropy, an open access, peer-reviewed journal, Massachusetts Institute of Technology (MIT) found that glyphosate interferes with human digestion and biosynthesis of nutrients. In fact, it acts as a potent bacteria-killer in the gut and actually wipes out the good micro flora which is in the body to help protect people from disease. (ii)
•Obesity – Because glyphosate has been proven to have damaging effects on the bacteria in the gut, it leads to depleted sulfate supplies which results in inflammatory bowel disease. Nutrient absorption is blocked and enzymes in the liver are affected. The obesity incidence is therefore compounded since the body's ability to detoxify synthetic chemicals is impaired. (iii)
•Breast Cancer – In a study just released this month, researchers found that glyphosate stimulates hormone-dependent cancer cell lines in what the study calls low and environmentally relevant concentrations. (iv)
•Birth defect – A study in the Journal of Environmental and Analytical Toxicology revealed industry studies dating back to the 1980's (some even conducted by Monsanto) demonstrated that glyphosate causes birth defects. (v)
Think you are safe? In 2011 a study by the USGS detected glyphosates present in the Mississippi river basin. (vi) In 182 volunteers tested in Germany, the United Kingdom and Poland, 70% were found to have had glyphosate in their body. (vii)
It's no wonder these numbers are so high. In the U.S 90% of all soybeans are genetically engineered (viii) and the EPA is discussing their desire to raise the allowable standard of glyphosate on crops (ix) to .7 ppm. According to European tests it indicates liver damage in animals at .0001 ppm. (x) Therefore, the EPA's increase is 7,000 times the limit found to have caused liver damage in animals, based upon the European tests.
What is the future? What can be changed? What can you do?
"I have seen the research and we are interviewing some of the world's leading experts. It is extremely frightening and every American should be educated about what is in the food they eat every day. It is impacting every one of us every single day, but the long-term effects are mind boggling," said Jeff Hays, producer of Bought. "Monsanto is just one of many companies that are buying the health and well being of citizens. It's time we ban together and stand up for ourselves, our health and our world…let them know we cannot be bought!"
Not yet enraged? You should be. The HR933 bill, dubbed the Monsanto Act by many, was signed into motion on March 26, 2013 and it allows biotech companies, like Monsanto, to bypass federal approval tests and plant their GMO crops despite well known health risks. This provision frees biotech companies from their liability to the people and from judicial accountability. (xi)
Jeff Hays and Bobby Sheehan are enraged and decided to enlist the public in the fund raising activities and are hosting their campaign on the popular Indiegogo site, at http://www.supportboughtmovie.com. They are half of the way to the fund-raising goal, which is further evidence of the power of crowd funding, especially with such a controversial topic as this.
About
Bought is a film about the issue of health being sold out from underneath individuals through big pharmaceutical companies, dangerous vaccinations and a food supply chain contaminated by the use of GMO's. Jeff Hays started Capstone Entertainment in the mid-nineties and built a production/distribution company to a multi-million dollar level and won numerous awards in children's programming. One of Jeff's most notable films was Fahrenhype 9/11, which he produced in 2004 featuring Ron Silver, Dick Morris, Senator Zell Miller, Mayor Ed Koch and others. This film generated millions in revenue and was widely accepted by the public and received positive reviews from the NY Times, Variety and other media. In 2005, Jeff produced On Native Soil where he was short-listed for an Academy Award. He also produced My Workout on Lifetime Television for a year and most recently released Doctored which has already sold over 150,000 copies. Bought is currently scheduled to be released Spring 2014. For more information go to http://www.SupportBoughtMovie.com or contact Renee Stewart at 866.519.5445 or rstewart(at)TabooPR.com.
References:
(i) http://www.epa.gov/safewater/pdfs/factsheets/soc/tech/glyphosa.pdf
(ii) http://www.mdpi.com/1099-4300/15/4/1416 Entropy 2013, 15(4), 1416-1463; doi:10.3390/e15041416
(iii) http://www.mdpi.com/1099-4300/15/4/1416 Entropy 2013, 15(4), 1416-1463; doi:10.3390/e15041416
(iv) http://www.ncbi.nlm.nih.gov/pubmed/23756170 2013 Jun 10. pii: S0278-6915(13)00363-3. doi: 10.1016/j.fct.2013.05.057 and
http://articles.mercola.com/sites/articles/archive/2013/06/25/glyphosate-residue.aspx
(v) http://earthopensource.org/files/pdfs/Roundup-and-birth-defects/Antoniou-Teratogenic-Effects-of-Glyphosate-Based-Herbicides.pdf - Antoniou et al., J Environ Anal Toxicol 2012, S:4
(vi) http://www.usgs.gov/newsroom/article.asp?ID=2909#.UcyjfPk3vcM
(vii) http://www.ulmer.de/Inhalt/Inhaltsverzeichnisse/Agro-Economic-Analysis-of-the-use-of-Glyphosate-in-Germany,QUlEPTMxNjk3NTImTUlEPTU2MTgz.html?UID=2BA4175333D48217120348376D9FC249D4DB92AAFC571644AA
(viii) http://www.ers.usda.gov/data-products/adoption-of-genetically-engineered-crops-in-the-us.aspx#.UcyoHfk3vcM
(ix) http://www.gpo.gov/fdsys/pkg/FR-2013-05-01/pdf/2013-10316.pdf
(x) http://www.national-toxic-encephalopathy-foundation.org/roundup.pdf
(xi) http://news.msn.com/us/monsanto-protection-act-called-outrageous-dangerous