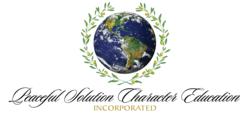 We've developed a program so simple anyone can use it, yet so powerful it will bring worldwide peace once fully implemented
(PRWEB) June 29, 2013
The Peaceful Solution Character Education Program is gearing up to speak in Washington D.C. to an audience, including government officials, to reveal a simple three-step plan to stop wars.
The event will take place on July 16, 2013 at The Capitol Hilton Hotel, South American B-Room 1001 16th ST NW, Washington, DC from 7:00pm-9:00pm.
The focus of the topics will be how to stop all wars, totally, and how to bring back healthy minds and bodies to the people. The non-profit group will lay out a simple three-step plan to make this huge task not only manageable, but also obtainable and successful.
"We have a plan that will stop all wars, from the small ones that take place daily in homes and schools through conflict, to the large national and global wars," says Yisrayl Hawkins author and founder of the program. "We've developed a program so simple anyone can use it, yet so powerful it will bring worldwide peace once fully implemented," he said.
The group plans to propose the blueprint to peace at the D.C. event, and invites anyone interested to participate.
For more information on the three-step process, visit the website http://www.stopallwars.org.
About Us –
Pioneered by President Yisrayl Hawkins, in 1994 The Peaceful Solution Character Education Incorporated began with a group of concerned parents and teachers whose keen observations led them to realize that positive character development was rapidly deteriorating in our society. Their concern prompted them to proactively embark on a mission to stop the decline and bring back positive character behaviors to society.
In 2004, the Peaceful Solution Character Education Program, authored by President Yisrayl Hawkins, was successfully introduced in the United States and nine other countries.
Since that time the program has been successfully implemented in schools, prison systems, after-school programs, daycare centers, apartment complex, businesses, non-profit organizations and in the home.
Media Contact:
Rebekah Mathews or Eugenia Schoenheinz
888-613-9494