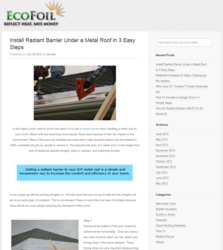 Our EcoFoil website offers customers excellent information about the products, but we've found our blog to be a great tool for describing uses in more detail.
Urbana, IA (PRWEB) June 27, 2013
EcoFoil.com, a leading supplier of reflective insulation, is using the power of blogging to communicate with customers about a range of uses for its eco-friendly products.
The EcoFoil blog was developed to show customers the benefits of its two best-selling items: radiant barrier reflective insulation and double bubble insulation. But as the popularity of the products have increased, the blog has become a platform for a range of informational and how-to articles on topics such as how to insulate an attic and return air duct panning.
"Our EcoFoil website offers customers excellent information about the products, but we've found our blog to be a great tool for describing uses in more detail," said David Arnold, EcoFoil product and sales specialist and editor of the blog. "A blog platform also makes it easy for readers to 'share' an article via social media, which increases our reach even further."
The line of EcoFoil products are designed to keep areas warm in the winter and cool in the summer, but differ from traditional energy efficient products because they stop up to 97% of radiant heat transfer. Other insulating products like fiberglass and cellulose only slow down heat transfer. It's these unique properties, along with its non-toxic design and slim profile that have made EcoFoil products versatile enough for other uses, such as creating a portable cooler and insulating animal's drinking water tanks.
"Sharing these unique uses for EcoFoil on the blog is a major part of our content strategy," says Nikki Dudley, EcoFoil's VP Operations. "It's an excellent way to really connect with our customers."
The categories on the EcoFoil blog make it easy for consumers to quickly find articles and videos they are interested in, from "Green Building Materials" to "EcoFoil in Action," which highlights customer stories.
The blog also features articles that go into more depth about the products and how they work. Arnold says it's become a great way to address common questions he receives from customers via phone: "I get a lot of calls from customers asking about the R value of reflective insulation so we've posted an article on the blog about that topic that we can refer them to; it has been extremely useful."
EcoFoil can be purchased online at EcoFoil.com and by calling 888-349-3645, where expert sales professional can help guide customers through the process of choosing the right products for their needs.
###
About EcoFoil
EcoFoil® is a leading supplier of radiant barrier and foil bubble insulation. Products are manufactured in the USA and Canada exclusively - we do not sell radiant barrier product imported from Asia. EcoFoil is a division of Clickstop, Inc., located in Urbana, Iowa. Clickstop was founded in 2005 as a manufacturer's representative and distributor of building materials to customers in the Midwest. The company expanded to develop an e-commerce business and now sells EcoFoil direct to customers in all 50 states and internationally through our website, EcoFoil.com. Clickstop has earned an A+ Rating from the Iowa division of the Better Business Bureau.