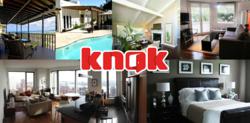 Our goal was to take home exchange mainstream and make it a popular option for any traveler to enjoy.
(PRWEB) June 27, 2013
Knok invites members from all backgrounds to book their dream honeymoon or destination wedding.
Each of Knok's recommendations for the best gay-friendly travel destinations are locations listed as some of the most accepting countries in the world according to a report released in May 2013 by the International Lesbian Gay Bisexual Trans and Intersex Association. Argentina, France, California, Spain, Italy, New York and South Africa top the charts for the most popular, non-discriminating places to stay and Knok has over 11,000 homes available in these exciting hot spots for a romantic getaway.
"Our goal in creating Knok was to take home exchange, our favorite way to vacation, mainstream and make it a popular option for any traveler to enjoy," says Knok co- founder Juanjo Rodríguez. "We celebrate this civil rights advancement with a similar mindset; a movement to openly accept everyone may be news today, but this has always been our policy and we hope it will soon become the norm everywhere."
From stylish dining in Paris to wine tasting in Sonoma to strolling the streets of Manhattan at night or exploring on a more adventurous African safari escapade, options abound abroad no matter how unique the travel desire. Knok members can get inspiration for planning their ideal honeymoon or wedding and receive a special code for a 20 percent discount by visiting the blog Knoleskine until July 31.
Newlyweds enjoy more personalized travel experience with home exchange option.
Home exchange offers couples an excellent setting to celebrate their new marriage with the intimacy of a personal home, the opportunity to extend vacations longer and the chance to save on average thousands of dollars on accommodation costs.
Every day, more people join international online communities in order to experience a more personalized way to travel. Staying at a private house, apartment, cabin or boat, complete with the suggestions of exchange partners who live in the chosen destination regarding the best places to visit, where to eat, how to avoid lines, etc., makes a vacation more tailored and less commercial than the traditional hotel accommodation.