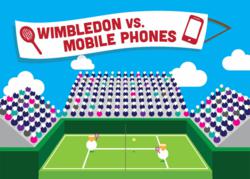 Birmingham, UK (PRWEB UK) 28 June 2013
The infographic was created as part of a study to examine how avid tennis fans use their mobile phones to enhance their Wimbledon experience.
Want to find out the results? View the Wimbledon Vs Mobile Phones infographic and learn how Wimbledon causes more injuries than mobile phones.
The key takeaway points from this study:

85% of Wimbledon spectators will use their smartphone at this year's tournament
A 90% increase in Wimbledon app downloads from 2011
Four pedestrians a day are injured by using mobile phones, but Seven Wimbledon players had to pull out due to injury in the third day of this year's Championships
Over 15,000 photographs will be taken on smartphones during the championships