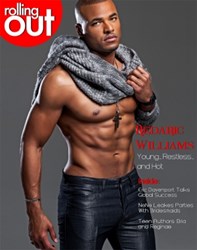 I'm not emotional. I'm not an emotional person at all — I don't get rattled very easily.
Atlanta, GA (PRWEB) June 27, 2013
Redaric Williams' silky caramel skin, seductive hazel eyes and killer abs have more than Lily's temperature rising on "The Young and the Restless." Those who aren't even fans of the long-running soap have been tuning in to see Williams play Tyler Michaelson.
The 6-foot-1 Detroit native is making such an impression that he's been featured in a couple of primetime CBS commercials alongside other resident "Y&R" eye candy.
During an interview with rolling out contributor Ronda Racha Penrice, the international model reveals he didn't realize the depth of fan loyalty. "I underestimated how huge the soap world is and how diverse the viewing demographic is."
In speaking about his personality in relation to his character Tyler he adds, "He's emotional and Redaric, I'm not emotional. I'm not an emotional person at all — I don't get rattled very easily."
Visit rollingout.com to read the interview in its entirety and get all the details about Redaric. Be sure to check out the exclusive photo shoot and video footage with celebrity photographer DeWayne Rogers.
About rolling out Magazine:
Rolling out, the nation's largest free urban weekly, is a digital and print magazine that focuses on the black experience in response to entertainment, politics, fashion, culture, sports and lifestyle points of interest. Headquartered in Atlanta, rolling out is positioned as the voice for the African American experience, using its newspaper as a platform in the marketplace to express urgency for education reform, and to document entrepreneurial endeavors and other relevant issues in the Diaspora. For information on rolling out, please log on to rollingout.com.