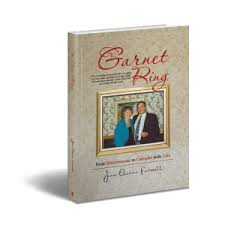 Sun Prairie, Wisconsin (PRWEB) June 29, 2013
According to The Robert Wood Johnson Foundation, chronically ill patients today are significantly more likely to be treated by 10 or more doctors in the last six months of their life than they were ten years ago.
When Jean Elaine Farwell's husband fell deathly ill, he only wanted one person's help. Doctors expected Jacques would only survive a few weeks after he was discharged from the hospital. Jean defied all medical odds and achieved the impossible by caring for him at home on a ventilator for almost four years.
The Garnet Ring: From Honeymooner to Caretaker with Love is Jean Elaine Farwell's inspirational new memoir of an adventurous woman who found the strength to leave a disastrous marriage and forge ahead to find her true soul mate.
Unfortunately, their fairy tale romance was blemished by illnesses that struck only a few years into their marriage.
When Jean's husband's tracheostomy broke at home, his ability to breathe halted and an ambulance ride was 25 minutes away. With no formal medical training or support system, Jean took extreme matters into her own hands, and her resourcefulness and devotion saved his life.
The Garnet Ring details how Jean maintained a loving and playful relationship with Jacques during his three profoundly critical illnesses and physical disabilities, and how she conquered the impossible and shocked doctors by taking matters into her own hands and doing what she knew to be best for her husband.
"People should not give up on love, even though you've been hurt in the past," Farwell says. "I believe many of us often can do more than we ever dreamed of, when we have the right inspiration to do so."
For more information, visit: http://www.thegarnetring.com.
The Garnet Ring: From honeymooner to caretaker with love
By Jean Elaine Farwell
ISBN: 9781475950182
Retail price: $29.95 hard cover
About the author
Jean Elaine Farwell is a survivor of domestic abuse who found the strength to leave an abusive marriage after 30 years. Jean met her second husband in an online support group, and ended up becoming an incredibly successful and inspirational caretaker for Jacques.
Currently, Jean lives with her husband Samuel in Sun Prairie, Wisconsin. At age 67, Jean has suffered a recurrence of cancer, and is currently in hospice care at home. Jean says resolutely, "I plan to hold more author events and to live life to the max for the rest of the time I am blessed with." The Garnet Ring is her 1st novel.
# # #