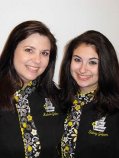 We are beyond thrilled to be working with these decorators! They are all so sweet and talented and we wanted to sponsor and support what they are doing for the sugar arts community!
Melbourne, FL (PRWEB) June 28, 2013
Marina Sousa from Just Cake, James Roselle from Elle Cakes, and Kathy Scott from Sweet Expressions will be sponsored by Simi Cakes at the upcoming Cake Camp 2013 at the Green Valley Ranch Resort in Henderson, NV on July 18-21, 2013. All three of the instructors will be using the newly released Simi Isomalt from Simi Cakes in the hands-on classes that they will instructing at the bi-annual event that gathers cake decorators from all over the United States.
"We are beyond thrilled to be working with these decorators! They are all so sweet and talented and we wanted to sponsor and support what they are doing for the sugar arts community," said Michelle Galpern from Simi Cakes.
Marina Sousa touts classes such as All About Isomalt, Bling Squared, and Diamonds are a CAKES Best Friend. James Roselle will be instructing classes with names such as Cinderella's Glass Slipper, Prints Charming, and G-L-A-M-O-R-O-U-S, among others. Kathy Scott, CMSA, will lead Breathtaking Petit Fours, Purses with Pizazz, and Sweet Little Cake Squares, to name a few. All classes from these instructors have been popular sign-ups for Cake Camp 2013 participants.
Sidney Galpern, the ever humble 17-year-old CEO of Simi Cakes, said "We really want to convey that we are so blessed to be working with these three talents! We are extremely excited that they want to work with Simi Isomalt."
Simi Isomalt was introduced to the sugar art world just eight months ago by Simi Cakes and has proved to be a popular product among sugar artists who work with isomalt.
Isomalt is the popular name for Isomaltitol which is a sugar substitute made from beet sugar. Over the past twenty years, chefs, sugar artists and confectioners have found that Isomalt has many advantages over sugar especially when making showpieces, cake decorations, dessert garnishes and candy. Unlike conventional sugar, isomalt is much more resistant to humidity and crystallization so decorative elements made with it have a longer shelf life and structural integrity.
Simi Cakes does all of the manufacturing of Simi Isomalt and has recently expanded their manufacturing space to keep up with demand.
Simi Isomalt is now available in vibrant and metallic colors and is available for sale at http://www.simicakes.com, and in several baking specialty stores across the country. They will also have a booth at Cake Camp 2013 where Simi Isomalt will be available.
Simi Cakes is led by Sidney Galpern and she is a Certified Professional Chocolatier, Cake Designer, Sugar Artist, and International Instructor. She graduated with honors from the prestigious Ecole Chocolat School of the Chocolate Arts and has the distinction as the youngest student to ever complete the program. She trained and interned with top sugar artists and chefs in New York City, Orlando, and West Palm Beach. Simi Cakes was chosen for the ABC's Extreme Makeover: Home Edition Space Coast. Sidney has taught and demonstrated sugar and cake decorating to professionals and amateurs for the last 6 years at venues such as Keiser University, the Sugar Arts Institute, Cake Shows, ICES Convention and Days of Sharing, culinary schools, restaurants, at the Festival of Chocolate, at cake clubs and cake supply stores, private classes, along with judging and sponsoring cake shows and is a member of the Icing Images Design Team. She designs and manufactures her own line of sugar art tools, manufactures her own brand of isomalt, as well as writing articles published in American Cake Decorating Magazine, Edible Artists Network Magazine, CakeFu.com, SugarArtsInstitute.com and featured on About.com, in the Florida Today Newspaper, Today in Brevard Television Show and the ICES Magazine. She released her first DVD for cake decorators in the fall of 2012. Simi Cakes & Confections (Pronounced See-Me) is located in Melbourne, Fl.