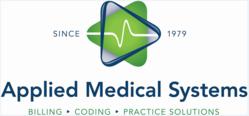 We recognize the importance of using technology to enhance the revenue cycle, eliminate inefficiencies and reduce the cost of claims processing.
(PRWEB) June 28, 2013
AMS, headquartered in Durham, North Carolina, isn't your typical medical billing and coding company. They offer unique practice management solutions to make your business run as smoothly as possible. Their services help private practices, emergency physician groups, and hospitals maximize cash flow, reduce administrative staff overhead and meet industry compliance standards.
With their medical billing and coding, and medical practice management services they can make all the difference to the bottom line of a healthcare organization. They added the MediStreams Remittance Automation service to enhance their offerings to their clients.
When asked what the main contributing factors for choosing MediStreams, a key executive at AMS replied, "Medistreams has standardized our paper EOB posting process and has eliminated the inconsistencies that come from having multiple people performing manual data entry tasks.
"At the same time, they have freed up our people to perform more high level billing tasks like working difficult denials and general account troubleshooting. Medistreams gives us the flexibility to bring on new clients without having to dedicate resources, or hire someone new, in order to post payments.
"Now we simply incorporate the new client into our existing process and let Medistreams do all of the heavy lifting. From day one the staff at MediStreams has been very easy to work with. From the initial setup, to dealing with the small issues that arise, they have been extremely helpful and quick to respond."
About Applied Medical Systems, Inc.
AMS has been caring for the health of practices for more than 30 years by providing billing, coding and practice management solutions to various healthcare specialties across the U.S.; including hospitals, private practices and emergency department physician groups. Their specialties include but are not limited to Emergency Medicine, Geriatrics, Family Medicine, Plastic Surgery, Obstetrics & Gynecology, Optometry, Neurology, Pediatrics, Urgent Care, Endocrinology, and Orthopedic Surgery. For additional information contact AMS at (919) 477-5152 or visit http://www.appliedmedicalsystems.com.
About MediStreams
MediStreams is a Medical Banking and Healthcare Revenue Cycle Management company that focuses on the automation of the healthcare remittance process. The solution is web-based, accessible from any internet connection. Built with flexibility in mind, the solution integrates with multiple patient accounting and practice management systems, in addition to adapting to the constant evolution of the healthcare space. MediStreams is SOC 2 Type II and HIPAA audited. If you would like to learn more about how the MediStreams solution can work for you, please visit the MediStreams website at: http://www.medistreams.com or call us toll free at: (888) ANSI 835.